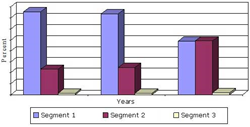 The U.S. market for clinical healthcare information technologies is expected to reach $19.7 billion in 2019.
(PRWEB) May 20, 2015
Wellesley, Mass., May 20, 2015 – The boundary between clinical and consumer health IT technologies is becoming increasingly blurred. BCC Research reveals in its new report on the clinical healthcare information technologies, electronic health records (EHRs) accounted for the largest share of the market (61.5%) in 2013, followed by telemedicine (23%) and picture archiving and communications systems (PACS) (7.8%). The total market for the clinical healthcare IT technologies was at more than $14.1 billion in 2013 and almost $15.6 billion in 2014. The market is predicted to grow to approximately $19.7 billion in 2019, with a compound annual growth rate (CAGR) of 4.8% over the next five years.
There is a growing interest in the healthcare industry in being able to import consumers' self-monitoring data from their mobile devices to their EHRs. Some healthcare practitioners also envision providing follow-up recommendations and other health-related information to consumers via their self-monitoring applications.
"In the past few years, a new category of health IT has begun to emerge, with individual consumers using mobile and wearable electronic devices and software to collect data on and monitor biometric indicators such as weight and heart rate," says BCC Research analyst Andrew McWilliams. "These self-monitoring activities are initiated and carried out by the consumers themselves, without a medical prescription or healthcare provider's directive, as in the case of telehealth."
H ealthcare Information Technology (HLC048E) describes and analyzes the dynamics of the U.S. market for healthcare technology. It is particularly focused on clinical IT systems that facilitate or provide input into the care process, as opposed to administrative and financial systems.
Editors and reporters who wish to speak with the analyst should contact Steven Cumming at steven.cumming@bccresearch.com.
About BCC Research
BCC Research publishes market research reports that make organizations worldwide more profitable with intelligence that drives smart business decisions. These reports cover today's major industrial and technology sectors, including emerging markets. For more than 40 years we've helped customers identify new market opportunities with accurate and reliable data and insight, including market sizing, forecasting, industry overviews, and identification of significant trends and key market participants. We partner with analysts who are experts in specific areas of industry and technology, providing unbiased measurements and assessments of global markets. Recently selected as the world's greatest market research company, BCC Research is a unit of Eli Global, LLC. Visit our website at http://www.bccresearch.com. Contact us: (+1) 781-489-7301 (U.S. Eastern Time), or email information@bccresearch.com.