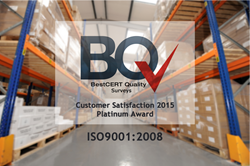 Our customers are the heartbeat of our business, so making sure they are happy is crucial to our ongoing success.
Manchester (PRWEB UK) 1 June 2015
The independent customer satisfaction survey (conducted in compliance with ISO/TS 10004:2012: Quality Management System Guidelines), clearly shows that Prime Document are a big hit with clients.
Achieving an overall score of excellence in every area of customer satisfaction, the report shows that not one client expressed any other view than 'very good' or 'extremely good' in all areas of customer care and service delivery.
Comments from clients included:
"I have always found that the team go above and beyond", "I can think of no way at all that they can improve" and "My personal experience with any of the team at Prime has been nothing but exemplary".
The Platinum Award is the highest accolade available and is only given to organisations that demonstrate excellence in all areas of customer service.
Moments after receiving the good news, QMS International sent through the renewal certification of ISO9001:2008 compliance. The annual audit report showed that Prime Document passed on all areas of inspection, specifically praising the company for their "encouraging" levels of compliance, process implementation and "excellent client satisfaction."
"As per the Management Review the Organisation are experiencing excellent satisfaction ratings at all stages of the established realisation process. The latest review of feedback has returned percentage figures of approx 93% satisfaction for 2014 / 2015." - QMS International Auditor Morris Simpson.
Commenting on the good news, Deborah Thompson, Financial Director of Prime Document said: "We place great value on our management systems and customer services. As a business we are continuing to see significant growth, but continue to keep our eye on the ball in terms of processes, procedures and client engagement."
She added, "Our customers are the heartbeat of our business, so making sure they are happy is crucial to our ongoing success."
END
About Prime Document
Established in 1999 to provide secure and reliable critical document production and distribution services, the document management company have continued to demonstrate a quality of service and return on investment that businesses find hard to ignore.
Working with leading brands and blue chip organisations, Prime Document have a rich heritage and impressive portfolio of customers including; LeasePlan, L'Oreal, Johnson & Johnson, Jardine Lloyd Thompson and Rentokil Initial.
Operating from Park Seventeen Industrial Estate in North Manchester, Prime Document are ideally situated between the M1 and M6 motorways, just 30 minutes from Manchester Airport.
Prime Document Ltd have been awarded the highest accolade possible by their ISO Customer Satisfaction consultants: The Diamond Award, achieving 95% customer satisfaction levels.
For more information about Prime Document, visit their website at: http://www.primedoc.co.uk
Prime Document Limited
Unit 3, Park Seventeen, Moss Lane, Whitefield
Manchester. M45 8FJ
Tel: 0161 766 5544 | http://www.primedoc.co.uk