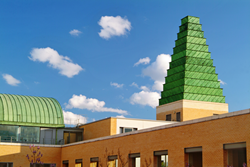 'Women are under-represented in the leadership teams of major programmes...so offering a scholarship specifically for women is a critical step towards increasing diversity.'
Oxford, United Kingdom (PRWEB UK) 20 May 2015
Saïd Business School, University of Oxford has announced the creation of a new scholarship for an outstanding female professional undertaking the MSc in Major Programme Management at the School.
'Women are under-represented in the leadership teams of major programmes,' said Paul Chapman, Director of the MSc in Major Programme Management, 'so offering a scholarship specifically for women is a critical step towards increasing diversity. We have previously welcomed women onto the MSc who are delivering major programmes across a variety of sectors internationally; from IT programmes, to complex weapon systems in defence, and at career stages that span high potential managerial roles through to accountability at the highest level. We have seen that by supporting the ability to make strategic decisions in complex environments women become increasingly adept at blending theory with practice in a way that develops their personal capabilities, whilst also making an immediate impact back in the workplace. This bodes well not just for their careers, but also for the profession overall.'
The scholarship is designed to increase the flow of talented women into senior roles in the industry. It covers £17,424 towards the programme fees, and will be awarded to a woman working in the field of major programme management based on the breadth and depth of work experience as well as past academic performance. Women applying to the MSc in Major Programme Management before 29 June 2015, and receiving an offer for the programme, will automatically be considered for the scholarship.
Launched in 2009, the MSc in Major Programme Management is the first of its kind in the world and has trained more than 210 senior executives from over 20 countries working on major programmes within both the private and public sectors.
Alicia Calef completed the MSc in Major Programme Management in 2011 and was quickly able to implement the skills and knowledge and progress her career through her organisation. She saw herself fast tracked to Operations Director and General Manager of a Precision Machining factory that is part of one of the top US Aerospace and Defence companies. 'I would encourage more women to apply for this programme and set themselves up for a successful career through focused study and differentiation,' she said. 'The programme did not simply teach preferred practices around managing major programmes, but encourages critical thinking and questioning of current methods. I was challenged to explore and create potential new ways to approach issues within complex organisations, a skill I have carried forward into my career.'
Major programmes are more than just scaled-up projects so need a different set of skills to manage them successfully. The two-year programme arms participants with the methodologies, knowledge and skills to face the challenge of delivering successful large-scale, complex and transformational projects, the scale of which can transform a company, a city, or even a country. Participants come from across a diverse range of sectors and may be working on typical hard infrastructure programmes such as airports or dams, through to 'soft' projects such as delivering a transformational change programme; education or health projects, allowing common challenges to be viewed in different contexts.
The 200+ graduates of the programme, from across Africa, Asia, Asia Pacific, Europe and North America, form a powerful and influential network of highly skilled major programme specialists who are helping spread good practice and valuable insights internationally among their own teams and partners. This network has also become an attractive source of programme managers for organisations who deliver major programmes.
More information on the programme can be found here:
http://www.sbs.ox.ac.uk/programmes/degrees/mpm
For more information, or to arrange an interview with Paul Chapman, please contact:
Josie Powell, Senior Press Officer, Saïd Business School
Mobile +44 (0)7711 387215, Tel: +44 (0) 1865 288403
Email: josie.powell(at)sbs.ox.ac.uk or pressoffice(at)sbs.ox.ac.uk
Jonaid Jilani, Press Officer, Saïd Business School
Mobile: +44 (0)7860 259996; Tel: +44 (0)1865 614678,
Email: jonaid.jilani(at)sbs.ox.ac.uk or pressoffice(at)sbs.ox.ac.uk
Notes to editors
1. About Saïd Business School
Saïd Business School at the University of Oxford blends the best of new and old. We are a vibrant and innovative business school, but yet deeply embedded in an 800 year old world-class university. We create programmes and ideas that have global impact. We educate people for successful business careers, and as a community seek to tackle world-scale problems. We deliver cutting-edge programmes and ground-breaking research that transform individuals, organisations, business practice, and society. We seek to be a world-class business school community, embedded in a world-class University, tackling world-scale problems.
In the Financial Times European Business School ranking (Dec 2014) Saïd is ranked 10th. It is ranked 10th worldwide in the FT's combined ranking of Executive Education programmes (May 2015) and 22nd in the world in the FT ranking of MBA programmes (Jan 2015). The MBA is ranked 7th in Businessweek's full time MBA ranking outside the USA (Nov 2014) and is ranked 5th among the top non-US Business Schools by Forbes magazine (Sep 2013). The Executive MBA is ranked 21st worldwide in the FT's ranking of EMBAs (Oct 2014). The Oxford MSc in Financial Economics is ranked 7th in the world in the FT ranking of Masters in Finance programmes (Jun 2014). In the UK university league tables it is ranked first of all UK universities for undergraduate business and management in The Guardian (Jun 2014) and has ranked first in ten of the last eleven years in The Times (Sept 2014). For more information, see http://www.sbs.ox.ac.uk/
ENDS