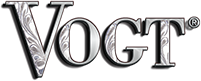 Woodland, CA (PRWEB) May 20, 2015
Vogt Silversmiths has announced the launch of a collection of sterling silver accessories designed for big game hunters, outdoorsmen and fishing enthusiasts. The collection, available in June, will commence with the unveiling of a new advertising campaign featuring the traditional, generational Vogt brand image with a truly outdoor flare. The advertisements will run in Eastmans' Hunting Journal, Sports Afield, and Fly Fisherman for the six month duration of the campaign. Online ads will link to the company's social media accounts and website.
Vogt Silversmiths recognizes that the avid hunter and outdoorsman are also the corporate executive, financial consultant and cardiologist seeking high quality designs that represent their lifestyle and pursuits. The inspiration for the new collection came from Vogt Silversmiths' success at trade shows like the Rocky Mountain Elk Foundation show, the Wild Sheep Foundation show and the Safari Club International.
While Vogt Silversmiths is known for its Western fashion jewelry, the Sportsmen Series is more appealing to outdoor living enthusiasts. The Sportsmen Series includes money clips, belt buckles and cuff links, with a general price range between $199 and $849. Common motifs include renderings of animals like trout, deer, ducks, and dogs in copper and gold set against floral and gunsmith engraving. Elephants, rhinos, bears, arrowheads, and goats are also available. In addition to the designs that represent their sport, Vogt has designed pieces within the collection that represent smooth, polished conservative lines paired with exotic belts that can be worn in daily life and for special occasions.
"We believe that this series itself is appealing to this market segment. Once they visit the website and see these new designs, in the transition they'll also see the Western buckles and hand tooled leather goods, giving all of our products more exposure," stated Casey Vogt, owner of Vogt Silversmiths. He went on to add that they hope to see more website traffic, allowing customers to view all the company's products as a whole.
About Vogt Silversmiths
Vogt Silversmiths sells belt buckles, men's accessories, western jewelry, leather items and more. Many of their pieces are handmade and hand engraved, and Vogt Silversmiths purchases are protected by a lifetime guarantee. To learn more about their products, visit vogtsilversmiths.com