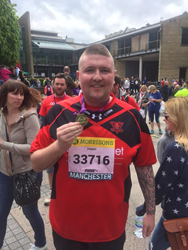 (PRWEB UK) 21 May 2015
Better Bathrooms employees, David Ockerby, James Kennedy and Patrick O'Shea, have all raised money for charity by running in either the London Marathon or the Great Manchester Run. Each of them have been pushing themselves to complete their personal goals and Better Bathrooms has been supporting them all the way.
Better Bathrooms staff can apply to the in-house Charity Pot, whether it's growing a tash for Movember or sitting in a bath of beans, we help our staff smash their targets.
---
David Ockerby: "Everyone at Better Bathrooms, has been incredibly supportive, it means a lot to me to have everyone's support and it helped me conquer the 26.2 miles." David ran the London Marathon and was raising money for PSPA: Progressive Supranuclear Palsy. PSP is a rare and progressive condition where increasing numbers of brain cells become damaged over time. For more information please go to: https://www.justgiving.com/david-ockerby1/
---
Patrick O'Shea: Patrick set himself a massive personal challenge when he signed up for the Great Manchester Run; "In January I was running for 1 minute than walking for 1 minute in a 30 minute period, I can now run continually for over an hour". Patrick added, "Since I started training I have lost 24lbs – this challenge has changed my life".
Patrick ran the Great Manchester Run and was raising money for Joining Jack who are trying to find a cure for Duchenne Muscular Dystrophy. DMD is a progressive muscle wasting condition which effects 1 in 3,500 boys at the age of 5. The average age of someone with DMD is 25 years old. For more information please go to https://www.justgiving.com/Paddy-O-Shea1
---
James Kennedy: James also took part in the Great Manchester Run "I am running the Manchester 10k to raise money for Diabetes which my father has and my Nana had. She recently passed away so I am running in her memory."
For more information please go to: https://www.justgiving.com/runkennedyrun/
Better Bathrooms have donated nearly £2,000 to the trio and their charities. For more information please go to http://www.betterbathrooms.com