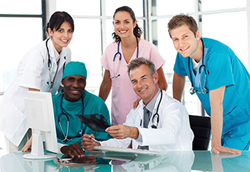 70 percent of all change efforts fail and only 10 percent of initiatives can be considered successful
Collierville, TN (PRWEB) May 21, 2015
LifeWings Partners, LLC today announced a new assessment tool to help health care leaders get better results from their safety programs by ensuring that their teams have the right qualities to succeed. The checklist, available free, enables health care leaders to assess 10 key areas and gauge their readiness to accomplish goals for projects that can cost hundreds of thousands of dollars.
The Leapfrog Group, a nonprofit healthcare watchdog, issued its latest Hospital Safety Scores for 2,500 acute care facilities. The scores are based on 28 safety measures used to generate a single letter grade that makes it easy for patients to compare hospitals in their area. The release of the report, which happens twice a year, spawns thousands of headlines about the damning or glowing scores and often prompts leaders of below-average facilities to frantically devise plans for improvements to assuage nervous patients, employees, insurers, and medical boards. Steve Harden, CEO of LifeWings, a leader in patient safety improvement programs, has been involved in many of these reactive efforts and stated that, "Typically, well-meaning attempts to fix the problems revealed in these reports fail—not because the hospital is systemically unable to improve—but because leadership did not ensure a foundation for success." He estimates that 70 percent of all change efforts fail and only 10 percent of initiatives can be considered successful. Because LifeWings offers its hospitals a guarantee on its improvement programs, its coaches designed a pre-project assessment tool to ensure that clients are positioned to adopt the cultural shifts required for success. To help this year's hospitals that received C's or lower from the group—an estimated 40 percent of California's facilities alone —LifeWings is making the checklist available on its website. Mr. Harden offered proof that the tool works, stating that, "We have evidence of projects where using this assessment has helped underperforming facilities make significant improvements like reduced infections, the elimination of retained foreign objects, and reduced mortality rates. Any responsible health care leader with a serious problem to fix needs to use this tool before spending a dime on any improvement program."
The Project Readiness Assessment provides guidance on several areas critical to ensuring project success, including: goal setting, communication of best practices, coaching, and measurement. The assessment is available here.
About LifeWings
LifeWings Partners, LLC is a team of physicians, nurses, Toyota-trained Lean experts, health risk managers, astronauts, military surgeons, and flight crews. The team was the first in the U.S. to study the best practices of organizations with high reliability, and successfully adapt their strategies for use in health care. They have distilled the methodology used in commercial aviation, military aircraft carriers, nuclear submarines, and cutting-edge manufacturing to help health care organizations create safe, efficient, high-quality hospitals and clinics.