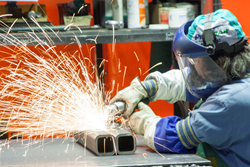 "We are excited to have the opportunity to share our 45 years history of manufacturing the country's top volumetric mixers with viewers across the United States."
Indianola, IA (PRWEB) May 20, 2015
Cemen Tech, the leader in the volumetric mixing industry, announced today that the company will be featured on an upcoming segment of Manufacturing Marvels on The Fox Business Network. The piece will air May 21, 2015 at approximately 8:30 pm CST. The two minute Manufacturing Marvels segment spotlights American manufacturers and their products, as well as the companies' processes and customers.
"We are excited to have the opportunity to share our 45 years history of manufacturing the country's top volumetric mixers with viewers across the United States," said Mark Rinehart, Cemen Tech Director of Sales and Marketing. "This segment will give current and potential customers an exclusive, behind the scenes view of how our volumetric mixers are made."
Manufacturing Marvels video team recently spent a day at Cemen Tech capturing the company's detailed manufacturing process. Crews were also able to capture video of the C860, a completely re-engineered mobile mixer, pouring concrete at a nearby jobsite. The new C860 was introduced in February at World of Concrete to rave reviews from those in the industry.
For a sneak peak of the Manufacturing Marvels segment, visit http://www.CemenTech.com/ManufacturingMarvels.
About Cemen Tech Inc.
Cemen Tech, Inc. has 45 years manufacturing and engineering experience in the volumetric mixing industry. As the industry leader, the company strives to provide the highest quality concrete mixers to its customers. Cemen Tech currently operates in 52 countries, services mixers across the globe, and supplies equipment to the United States military. Cemen Tech believes that people, businesses, and communities around the world should have the infrastructure to access clean water, to transport goods and services, and to reliable housing. Their products provide the foundation and stability to meet the needs of a growing world in an environmentally conscious way.
###