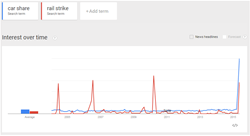 (PRWEB UK) 20 May 2015
As the first national rail strike in 20 years threatens to disrupt the bank holiday plans of millions of families across Britain, smart drivers and passengers are turning to innovative technology to save money, reduce delays and avoid trains altogether.
To help people get around during the strike, which runs for 24-hours from 5pm on Monday, May 25th, the UK's largest car share community Liftshare.com has created a car share hub for those looking for alternative transport, while providing tips for newcomers to shared travel.
Liftshare's technology has helped car sharers save nearly £60 million since the launch of the site, and with critically-acclaimed travel apps on both iOS and Android, switched-on drivers and passengers are reaping financial rewards on a daily basis.
"We know people are worried about the rail strike but we are here to help," said Lex Barber, Liftshare's Community and Outreach Manager, "We are encouraging anyone driving during the strike to consider petrol cost contributions from multiple passengers, and offer those without access to a car a convenient and affordable alternative to trains."
Google's search data shows that, for the first time, British searchers are exploring car sharing options ahead of rail strike news, underlining the surging appetite for more affordable and reliable travel methods than existing public transport options.
With individual savings of up to £2,500 a year in travel costs, Liftshare's 430,000 members can use the platform's smart search to calculate how petrol costs can be divided between a driver and their passengers.
Everyday car owners are encouraged to try car shares using Liftshare.com, the site's rail strike page and free apps during union action and offer their spare seats to those in need, while those without access to a car can take advantage of cheaper, greener and social travel.
Liftshare will be looking out for those voicing their travel frustrations during the strike on social media, and will attempt to offer solutions throughout.
-ENDS-
Notes to Editors:
For quotes, interview requests, Liftshare imagery and more, please contact:
Dave Cook
Outreach & Engagement Manager
david(dot)cook(at)digitaslbi(dot)com
TEL +44 207 063 6640