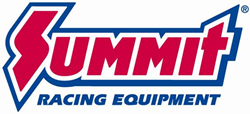 Tallmadge, OH (PRWEB) May 21, 2015
The idea behind PowerNation TV's Engine Power "Black and Blue" 347 Ford was to build as much horsepower as possible with off-the-shelf parts. Enthusiasts can duplicate that horsepower—or maybe even exceed it—with these PowerNation TV Engine Power Black and Blue 347 Ford Stage 1 Parts Combos.
The Engine Power crew expected this Stage 1 combination to make good power, but were pleasantly surprised when the 347 gifted them with 507 horsepower and 447 lbs.-ft. of torque.
Short Block Combo
The Short Block Combo builds a solid foundation for the 347. It includes a Summit Racing engine block, Eagle Specialties rotating assembly, a Lunati hydraulic flat tappet cam and lifter kit, and a Moroso/Melling oiling system.
Cylinder Head and Valvetrain Combo
Based on a set of AFR Renegade 20 Degree Street/Strip cylinder heads and a set of 1.6 ratio Lunati Voodoo roller rockers, the Cylinder Head and Valvetrain Combo delivers the airflow the 347 needs to breathe—and make horsepower.
Induction, Ignition, Exhaust Combo
347 cubic inches need lots of air and fuel, a big spark, and big tubes to whisk away the leftovers from the horsepower-making process. That's what this combo provides—a Quick Fuel carburetor and Edelbrock Victor Jr. intake, an MSD Pro-Billet distributor, and Hooker Super Competition headers.
Completer Combo
The Completer Combo has many of the parts needed to button up the 347—Fel-Pro gaskets, ARP fasteners, a Ford Racing water pump, assembly lube, even Dupli-Color engine paint.
Watch the build online at PowerNationTV.com.
Summit Racing Equipment
http://www.SummitRacing.com
1-800-230-3030