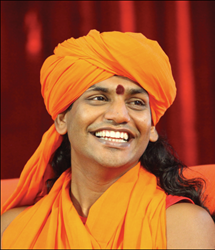 Siddhis or miraculous powers are nothing but harnessing the natural laws, which science has not yet understood-Sri Nithyananda Swami
Washington, D.C. (PRWEB) May 23, 2015
On May 13, Nithyananda Yoga Foundation organized a live demonstration of powers of a youngster's yogic power learned through meditation and initiation at Special Holistic School established by Sri Nithyananda Swami in Bangalore, India.
Yogamaatha, a nine-year-old girl from North Carolina, stunned an audience of more than 50 high profile professionals attending the 2015 Business Advocacy Summit at Capitol Hill in Washington D.C. by reading fluently -- blindfolded.
In a demonstration that lasted three hours, Yogamaatha was able to read aloud entire sections from news articles, business cards and other content supplied by the audience at a speed comparable to a nine-year-old reading with open eyes. Double blindfolds and eye pads were used on Yogamaatha to ensure that the readings were foolproof and credible.
In attendance were professionals from all over the US, including Purnima Voria, Founder and CEO of National US Indian Chamber of Commerce, and Dr. Ritu Carpenter Soni, Director of Sleep Lab, New York, as well as doctors, medical researchers, bankers, investors and government officials.
To view the live demo: http://youtu.be/feivqctJhW8
Later, Yogamaatha also demonstrated her powers at the Columbia Lighthouse for the Blind (CLB) in Washington D.C. Vencer Cotton, a director at CLB, was amazed and intrigued by, "the extraordinary avenue that is available to those who do not have their physical eyes or have impaired vision."
Yogamaatha acquired this power through meditation and initiation at Nithyananda Gurukul, a holistic school established by Sri Nithyananda Swami, a popular Hindu spiritual leader. The school employs a system of education, which teaches the best of India's Vedic heritage alongside modern education. Yogamaatha is one of many children at Nithyananda GurukulSM who have successfully demonstrated extrasensory powers, such as blindfolded reading. This science is also taught via the Third Eye Awakening MeditationSM in a safe and natural way to children and adults at Inner Awakening®, the 21-day personal transformation program conducted by Sri Nithyananda Swami several times a year in various locations around the world.
This special ability to read blindfolded comes from awakening what is called the "third eye" (called the "ajna chakra") – an energy center believed to exist between the eyebrows and is directly associated with the middle brain, especially the pineal gland. Children who have done the Third Eye Awakening MeditationSM at both Nithyananda Gurukul and Inner Awakening® exhibit higher levels of creativity, and the ability to absorb new concepts at a much faster rate than normal.
"This blindfolded reading demonstration may seem extraordinary, but we have only just scratched the surface of what is possible," says Sri Nithya Advaithananda, a teacher at Nithyananda Gurukul. "The 'Third Eye Awakening MeditationSM' taps into the brain's full potential, and the capability to read blindfolded is one side effect. With deeper levels of awakening, the Vedic scriptures say that we can eventually access information beyond the normal perception of our five senses."
While "superhuman" powers or siddhis were well known and employed in the ancient Vedic tradition of India, modern science is still struggling to get deeper insights into this field.
Explains Sri Nithyananda Swami, "Siddhis or miraculous powers are nothing but harnessing the natural laws, which science has not yet understood."
Yogamaatha will be demonstrating her ability to read while blindfolded during a tour around the US: http://innerawakening.org/thirdeyereading.