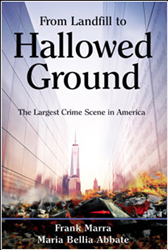 Dallas, Texas (PRWEB) May 20, 2015
Retired NYPD Sergeant and World Trade Center first responder Frank Marra's new book, From Landfill to Hallowed Ground: The Largest Crime Scene in America, is the perfect reminder that Memorial Day is about the lives lost not only overseas, but also right here at home on that tragic day.
Marra and co-author Maria Bellia Abbate use From Landfill to Hallowed Ground to take you behind the scenes and into the largest mobile crime scene in history: the Staten Island Landfill otherwise known as "The Hill." That is where volunteers, including NYPD officers, would spend countless hours sifting through debris, ash, and remains to find 54,000 personal objects and 1,200 identities of those who perished.
"As time passed we realized how many people's ashes and DNA still remain at the Landfill. It was clear this became a holy ground, a place of rest for many who would never be recovered, a cemetery without tombstones," Marra said.
Marra and Abbate ultimately hope From Landfill to Hallowed Ground becomes not only a historical first-hand reference and educational tool, but also an aide to those who were gravely affected by 9/11 and continue to struggle with the harsh memories.
From Landfill to Hallowed Ground: The Largest Crime Scene in America is dedicated to the first responders on September 11, 2001, and other lives lost on that tragic day.
For more information visit http://www.FromLandfillToHallowedGround.com
###
To schedule a personal interview with Frank Marra or Maria Bellia Abbate, please contact Gavin Rhoades with The Agency at Brown Books at Gavin(dot)Rhoades(at)TheAgencyatBB(dot)com or call 972.381.0009.