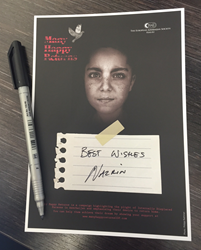 London, UK (PRWEB UK) 20 May 2015
Following on from the UK General Election on 7 May, the Many Happy Returns (MHR) campaign – an initiative of The European Azerbaijan Society (TEAS) – has welcomed all 650 UK Members of Parliament with cards that act as a stark reminder of the plight of Azerbaijan's internally displaced persons (IDPs) and refugees. These 875,000 Azerbaijani citizens are the ongoing victims of the Armenian–Azerbaijani conflict over Nagorno-Karabakh.
Portraying ten-year-old Nazrin Khanlarova, who was born in the Gizilgum IDP and refugee camp, all MPs have received a personal greeting, reading: "On behalf of my fellow 875,000 refugees and IDPs in Azerbaijan, I congratulate you being elected as an MP and wish you 'many happy returns' to Parliament."
For more details of the Many Happy Returns campaign and to show your support, go to http://www.manyhappyreturnsidp.com.