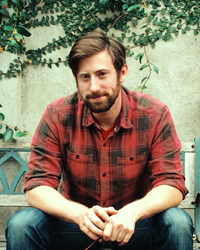 "We are identifying some of the finest young playwrights in this country and encouraging them to write a new play inspired by attendance at the Aspen Ideas Festival," said Julia Hansen, Theater Masters founder and Artistic Director
Aspen, CO (PRWEB) May 22, 2015
Theater Masters' president, Julia Hansen, announced today Ian MacAllister-McDonald and Eva Suter as the eighth annual Theater Masters' Visionary Playwright Award winners.
In partnership with The Aspen Institute, Theater Masters invites the winning playwrights to attend The Aspen Institute's prestigious Aspen Ideas Festival in July. Theater Masters then commissions both MacAllister-McDonald and Suter to write a full-length play inspired by a "big idea" they encountered at the Festival and guarantees a future development and/or reading opportunity for the resulting new work.
Theater Masters' previously commissioned works from this program have gone on to great success, including: Kirsten Greenidge's MILK LIKE SUGAR, which received productions at La Jolla Playhouse and Playwrights Horizons and went on to win the 2012 Obie Award for Best Play; Rebecca Gilman's LUNA GALE, which has enjoyed runs at The Goodman Theatre and at CTG in Los Angeles and won the 2015 ATCA Harold and Mimi Steinberg/ATCA's New Play Award; and Jordan Harrison's MARJORIE PRIME, which premiered at CTG in Los Angeles, will enjoy a run at Playwrights Horizons in Fall of 2015, and was a finalist for the 2015 Pulitzer Prize for Drama.
Based in Aspen, Colorado, Theater Masters is a non-profit organization whose core mission is to find and nurture the next generation of playwrights for the American Theater. "We are identifying some of the finest young playwrights in this country and encouraging them to write a new play inspired by attendance at the Aspen Ideas Festival," said Julia Hansen, Theater Masters founder and Artistic Director – and former President of New York's Drama League. "In many ways how I started the Drama League's "Director's Project" is how I am now fostering new playwrights --- by discovering new playwrights through our National MFA Emerging Playwright program and then providing them opportunities to write and develop full-length plays later on in their careers."
Ian MacAllister-McDonald is a playwright, filmmaker and educator from Portland, Maine. He holds an MFA in Playwriting from Brown University, where he also taught, and is the recipient of an Edward Albee Foundation Fellowship, a MacDowell Colony Fellowship, the Clauder Competition Gold Prize, and a Playwriting Grant from the National Endowment for the Arts. He received a BA in English Literature from Loyola Marymount University, where he recently returned to teach. Ian is currently finishing work on his first feature film, SOME FREAKS. He is represented at William Morris Endeavor and managed by Industry Entertainment.
Eva Suter is a Northwest-based playwright and poet and received her M.F.A. through the Michener Center at UT Austin in 2015. As a founding member of Portland, OR's The Working Theatre Collective, she worked with the company as a writer and director. Among other things the WTC produced her trilogy of plays about unfortunate Greek women of myth. In Austin, Eva's work has ranged from haunted shopping malls to action movies for the stage to plays about science, sisters, and rethinks on OTHELLO and MEDUSA, A PERFECTLY NORMAL GIRL which was awarded the Portland Drammy for best new play in Spring 2011. In January 2013 she was awarded the Oregon Literary Arts Fellowship in Drama.
In 2008, Theater Masters initiated the Visionary Playwrights Award, in partnership with The Aspen Institute and three of America's top regional theaters: Steppenwolf Theatre in Chicago, La Jolla Playhouse in California, and Playwrights Horizons in NYC.