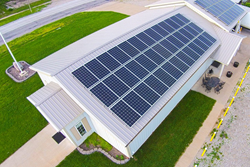 Iowa Wind and Solar was founded with one goal: Make saving money with solar simple.
FAIRFIELD, IA (PRWEB) May 26, 2015
An Iowa born and raised renewable energy firm is challenging the status quo by making it their mission to bring affordable and reliable solar power to every business, farm, and home.
In keeping with their mission, Iowa Wind and Solar is introducing zero money down financing that saves solar users money from the first day the array is installed. Plus, the company claims that with federal, state, and local incentives combining for a savings of up to 80%, there has never been a better time for businesses, farms, and homeowners to start saving on their electric bill.
The financing program was introduced April 1, 2015, and the company says they have already received an overwhelming response. Many sources speculate that the reason for this success is due to the unique structure of the program that allows people to own a solar array for no more money than they are already spending today.
Tyler Anderson, President and Founder of Iowa Wind and Solar, recently shared his vision with the press:
Imagine a world where, instead of paying the electric utility and taxes, you could instead save that money and invest it in an asset that YOU own. An asset that will produce free power for decades to come, and won't cost a dime more than you're already spending today. I don't know about you, but I like that world.
Businesses, farms, and homeowners are encouraged to find out how much they can save on their electric bill by visiting: http://www.iowawindandsolar.com/save
For more information, contact David Birchmier via email at david(at)iowawindandsolar(dot)com, or call 1-800-8080-SUN.