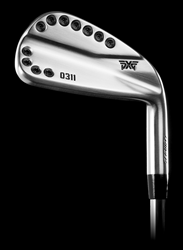 "PXG's unique weighting system and proprietary club technology is beyond anything I've ever played - from a performance and aesthetic perspective. I've been able to achieve some great improvements in my numbers." - PGA TOUR golfer Ryan Moore
Scottsdale, AZ (PRWEB) May 20, 2015
Parsons Xtreme Golf ( PXG) has taken the first step toward launching its brand to consumers. The company announced that PXG 0311 irons and wedges are now available to demo and order at all Cool Clubs locations.
PXG clubs have been in play on the PGA TOUR since January 2015, but until now have not been available to consumers. Cool Clubs will be first retail partner to carry PXG 0311 irons, with other PXG Certified Retailers coming soon.
"PXG is committed to building the best golf equipment on the planet," said the company's founder Bob Parsons. "While the equipment will speak for itself, we want to make sure that every golfer is fit for his or her clubs by a professional. Cool Clubs' commitment to fitting their customers with the very best golf equipment makes them an ideal first partner."
"Cool Clubs is proud to offer PXG irons to our customers before they become generally available to the public," said Cool Clubs CEO Mark Timms. "The patented technology behind PXG clubs makes them one of the most forgiving irons in the market today."
Parsons Xtreme Golf uses patented technology and sophisticated manufacturing processes that integrate high-performance alloys and elastomers to produce its irons and wedges. The process begins with a forged open face body. The internal cavity of the forging is then precision CNC milled and an ultra-thin, high-strength HT1770 maraging steel face is plasma welded to create a hollow core. A thermoplastic elastomer is then injection molded into the core to provide structural stability. High-density tungsten alloy screws – which create the irons' signature look – are positioned around the edges to provide extreme perimeter weighting and maximum forgiveness.
PXG clubs are currently being played on the PGA TOUR by Ryan Moore and on the Champions Tour by Rocco Mediate.
"Putting PXG clubs in play has been a great decision," said four-time PGA TOUR champion Ryan Moore. "Their unique weighting system and proprietary club technology is beyond anything I've ever played - from a performance and aesthetic perspective. I've been able to achieve some great improvements in my numbers, and now that they're available to the public, I'm excited to see what they'll do for golf enthusiasts at every level."
To schedule a fitting, visit http://www.coolclubs.com or call 888-284-9292.
For more information about Parsons Xtreme Golf visit http://www.PXG.com.
About Parsons Xtreme Golf (PXG)
Parsons Xtreme Golf (PXG), based in Scottsdale, Arizona, was founded by GoDaddy founder, businessman and philanthropist Bob Parsons in 2014. Joining Parsons at PXG are golf club designers Mike Nicolette, who competed on the PGA Tour for nearly a decade, and Brad Schweigert, who holds more than 150 golf-related patents. Leveraging patented technology and sophisticated manufacturing processes that integrate high-performance alloys and elastomers, PXG produces the finest golf clubs in the world. The company has been awarded nine patents for its proprietary designs.
About Cool Clubs
Cool Clubs has its headquarters in Scottsdale, AZ with 18 locations worldwide, including 2 Locations in Tokyo, Japan, Sanctuary Cove, Australia and Toronto Canada partnering with Modern Golf. Cool Clubs works with Tour-level professionals (over 100 PGA/LPGA Tour Players) to beginners who want to give themselves a better opportunity for rapid game improvement. Cool Clubs offers a variety of club fitting services for all types of golfers, from driver and long game fittings (hybrids and woods) to irons, wedges and putter fittings. Cool Clubs' locations employ the latest technology to fit the golfer, and our corporate "build" facility in Scottsdale has the skills, equipment and highly trained personnel to build one club, or an entire set of clubs, to meet your specifications.