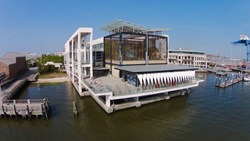 Charleston, S.C. (PRWEB) May 20, 2015
Head to the South Carolina Aquarium this Memorial Day weekend for a one-of-a-kind experience touching sharks and learn more about turtles that call South Carolina home.
Shark Shallows, the largest new exhibit at the Aquarium in 15 years, is now open to the public. The beautifully designed, 20,000-gallon tank was constructed on the Aquarium's Riverside Terrace overlooking the historic Charleston Harbor, and features three different species of animals. Guests can come fingers to fins with bonnethead sharks, cownose rays and southern stingrays, species all found right off the coast. Shark Shallows features a figure eight tank that includes a shallow end where guests can reach in the water with a two-finger approach to touch these amazing animals. The exhibit also features a deep end where guests can come eye-to-eye with the newest Aquarium residents at a large viewing window.
Shark Shallows serves to dispel the misconceptions that surround sharks as being aggressive predators. In reality, humans are more dangerous to sharks, with 100 million sharks dying each year due to human activity. When guests visit the exhibit, they will not only be able to touch the animals but also learn more about why they are critical to our oceans and what can be done to become a champion on their behalf.
During Memorial Day weekend, the Aquarium also will host a very special celebration in honor of World Turtle Day®. Join us Saturday, May 23 for special activities throughout the Aquarium. Local sea turtle teams and the South Carolina Department of Natural Resources will be on hand educating guests about the importance of sea turtles. There will also be additional Sea Turtle Hospital tours at 11 a.m., noon, 1 p.m. and 2 p.m. During the tour, guests can view sea turtles currently undergoing care in the Sea Turtle Hospital. Education team members will have special stations set up around the Aquarium with more information on the turtles that live in South Carolina. Guests will even get to meet many of those turtle species.
Guests may also check out the Aquarium's artists-in-residence, tiny diamondback terrapin painters. The turtles work with non-toxic paint and create beautiful works of art all while guests watch. Paintings created by the turtles may be purchased at the Aquarium's gift shop with proceeds benefiting the Sea Turtle Hospital.
Shark Shallows and World Turtle Day® are included with general admission (with the exception of the Sea Turtle Hospital tours). For more information, visit scaquarium.org or call (843) 577-FISH (3474).
Shark Shallows is sponsored in part by The Guy Harvey Ocean Foundation, MWV, Peninsula Grill and Hank's Seafood Restaurant.
Fast Facts:
o Kick off summer this Memorial Day weekend with the South Carolina Aquarium
o Enjoy the new Shark Shallows exhibit and come fingers to fins with sharks and rays
o Celebrate World Turtle Day® and enjoy special on-floor activities including:
o Meet local sea turtle teams and the South Carolina Department of Natural Resources
o Enjoy additional Sea Turtle Hospital Tours (not included with general admission)
o View the Aquarium's resident turtles
o See tiny terrapins create beautiful works of art
o Shark Shallows and World Turtle Day® are included with general admission (Sea Turtle Hospital Tours not included)
o For more information visit scaquarium.org or call (843) 577-FISH (3474)
o Click here for the media newsroom on Shark Shallows with additional information, photos, renderings and video
For all media inquiries, please contact Kate Dittloff at (843) 579-8660 or kdittloff(at)scaquarium(dot)org.
About the South Carolina Aquarium:
The South Carolina Aquarium, Charleston's most visited attraction, features thousands of amazing aquatic animals from river otters and sharks to loggerhead turtles in more than 60 exhibits representing the rich biodiversity of South Carolina from the mountains to the sea. Dedicated to promoting education and conservation, the Aquarium also presents fabulous views of Charleston harbor and interactive exhibits and programs for visitors of all ages.
The South Carolina Aquarium, a 501(c) (3) not-for-profit organization and is open daily from 9 a.m. to 6 p.m. The Aquarium is closed Thanksgiving Day, half day Dec. 24 (open 9 a.m. to 1 p.m.) and Dec. 25. Admission prices are: Toddlers (2 and under) free; Youth (3-12) $17.95; Adults (13+) $24.95. The Aquarium plus the 4-D Theater experience is free for Toddlers, $22.95 for Children, $29.95 for Adults. The 4-D Theater experience only is $6.95 for Children and Adults, and free for Members. For more information call 843-720-1990 or visit scaquarium.org. Memberships are available by calling 843-577-FISH.
###