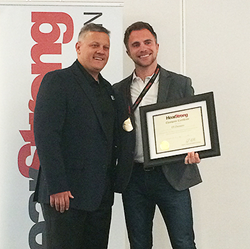 ...D.J. has truly brought hearing loss awareness to an incredibly wide audience.
Syracuse, NY (PRWEB) May 21, 2015
Comedian D.J. Demers is having a blast.
This month, D.J. was celebrated as a HearStrong Champion by the HearStrong Foundation amongst some of the top professionals in the hearing healthcare industry.
From Toronto, D.J. was diagnosed with hearing loss as an infant and began utilizing hearing devices at the age of four. Because of this early utilization and acceptance, D.J. always appreciated how his devices allowed him to live the life he wanted.
"Any issues of embarrassment or wounded pride go out the window when you're able to hear all the wonderful sounds this world has to offer," said D.J.
As a successful stand-up comedian and television personality in his native Canada, D.J. has incorporated his hearing loss into his act in hopes of changing the way most people view hearing loss, hearing devices, and the people who use them.
"D.J.'s honesty on stage about his hearing loss and his ability to make it accessible and relatable is a true testament to his talent," said Ed Keller, founder and president of the HearStrong Foundation. "By allowing others to laugh with him, D.J. has truly brought hearing loss awareness to an incredibly wide audience."
About the HearStrong Foundation:
The HearStrong Foundation is a 501(c)(3) not-for-profit organization that seeks to shatter the stereotypes surrounding hearing loss and its advanced solutions by honoring the accomplishments of those who have overcome hearing loss and inspire others to do the same. Supported by the dedication of EarQ providers, the foundation is a worldwide advocate for hearing loss awareness, education and support. For more information about the foundation, or to nominate a HearStrong Champion, please visit hearstrong.org or contact:
info(at)hearstrong(dot)org
Like us on Facebook
Follow us on Twitter