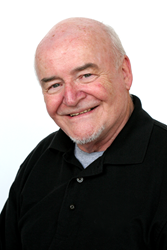 Kansas City, Kan. (PRWEB) May 20, 2015
When Father Jim Barnett traveled to El Salvador and back during the dangerous days of the 1980's, his mother asked why he continued to put his life at risk.
"These are wonderful people," he answered. "I want to get what they have; a simple absolute trust in God."
This week, Father Barnett returns to El Salvador. He wants to be among the Salvadoran people when Oscar Romero is beatified in the Catholic Church, the final step before sainthood, on May 23.
Father Barnett was drawn to El Salvador following the assassination of Archbishop Oscar Romero, a hero to the nation's poor. Father Barnett served as a priest to some ten thousand people fleeing El Salvador's civil war in the countryside, cramming into shanty towns in San Salvador, the capital.
He speaks of the bravery, loyalty and devotion of the people to the man who advocated for them.
"Every shack had a holy card (honoring Romero) on the door," he remembers. "Or posted on the cardboard wall if they had no door."
Father Barnett remained in El Salvador during turbulent years when kidnapping and torture were commonplace.
Following in the footsteps of Oscar Romero, Father Barnett worked there until 1989 when six Jesuit priests along with their cook and her teenage daughter were murdered.
Father Barnett left when he received a death threat himself.
"Leave or be dead," was the message according to Father Barnett. "In El Salvador you took that seriously."
Father Barnett now travels in the United States speaking on behalf of Unbound, an international humanitarian organization founded by lay Catholics serving families in 20 countries, including El Salvador.
"Archbishop Romero was the spokesperson for the church of the poor. He was killed because of that," says Father Barnett, "So was Jesus. But his legacy is one of tremendous hope."
Today, gangs and drug lords have replaced government soldiers in persecuting the poor and committing unthinkable atrocities against those who oppose them. Father Barnett believes Archbishop Romero would engage them just the way he did guerrilla fighters in the 1980's.
"He would probably meet with them," Father Barnett said. "He would try to get some way to find a solution that would come from them and not be dictated by others."
Despite the gang violence and murders that mark much of El Salvador, specifically San Salvador today, Father Barnett is not afraid to make the trip this week even though his friends are worried. "They say, 'You are going to El Salvador. Why?'" he explains. "Kind of the same response I gave my mother. These are good people. I want to be with them."
Unbound is an international nonprofit founded by lay Catholics grounded in the Gospel call to put the needs of the marginalized and vulnerable first. Unbound works side by side with people of diverse faith traditions in 21 countries, bringing people together to challenge poverty in new and innovative ways.
Unbound distributes direct aid as quickly and efficiently as possible to people who need it. More than 93 percent of Unbound's expenses go toward program support.
Learn more about Unbound at http://www.unbound.org.
#