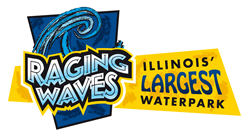 "It's warming up to a hot summer and we are ready for it at Raging Waves. We've completed our first park expansion and are celebrating with some great giveaways."
Yorkville, Illinois (PRWEB) May 21, 2015
Raging Waves, Illinois' largest waterpark, promises a refreshing escape from the everyday by giving visitors ways to "experience summer" with their expanded park and new, exciting activities.
The Koala Kove children's area has expanded to feature two brand new slides, including a new crocodile slide, a larger, zero-depth entry pool, new splash features and increased seating and shade areas. Returning features include special theme days, special days where mom and dad get in free, and a visit from Jim Nesci who brings his "Cold-Blooded Creatures" educational program to audiences.
"It's warming up to a hot summer and we are ready for it at Raging Waves," says Randy Witt, owner of Raging Waves Waterpark. "We've completed our first park expansion and are celebrating with some great giveaways. 2015 will be memorable and exciting."
The park is excited to give away six pairs of tickets throughout the summer to one of the coveted shows in the area: the Taylor Swift show at Soldier Field on July 19. Anyone wishing to enter the contest has to be at least 13 years old and present in the park on specific days to win.
The 45-acre, family friendly summer destination offers 19 water slides, a wave pool, lazy river and multiple play areas. Main slide attractions include the Boomerang, Crocodile Mile, Tasmanian Twisters and the Platypus Plunge, just to name a few. Discover more information about the park, its attractions and special theme days at http://www.ragingwaves.com or by calling 630-882-6575.
About Raging Waves
Raging Waves is Illinois' largest water park, in Yorkville, located 45 minutes west of Chicago. The Aussie-themed family park entertains thousands of guests each day during the summer season. The park was named "Best of the Midwest" by Midwest Living magazine and USA Today rated Raging Waves a "top Illinois Summer Destination" and has been honored with awards from The Daily Herald Business Ledger and Reflejos publications. The park is affiliated with the World Waterpark Association and International Association of Amusement Parks and Attractions. Please visit http://www.ragingwaves.com or call 630-882-6575 for more information.