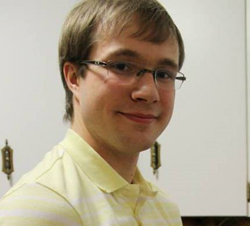 Once again, Houghton business students just continue to amaze us with their level of intrinsic motivation to understand business principles
Houghton, New York (PRWEB) May 20, 2015
Thirty-three Houghton College business students have scored in the top 11 percent of all U.S. colleges and universities in the ETS Business Major Field test, a nationally administered test designed to examine students' knowledge in the field of business.
Additionally, seven students scored in the top eight percent, and one student scored in the top one percent in a field of more than 30,000.
The Business Major Field Test was administered at 489 institutions to 31,195 undergraduate students. It is intended to compare the skills and knowledge of the brightest business students at each school to those at similar institutions in order to improve instruction and learning.
Over the past 12 years, Houghton business students have traditionally scored in the top eleven percentile or higher nationally and have scored in the top one or two when compared to other Christian schools.
This year, seniors Molly Freihofer, Josiah Evans, Bradley Oliver, Joanna Sudlow, David Weigle, Christopher McKay, Sarah Slater and Brian Dickinson all scored in the top eighth percentile with Dickinson placing in the top one percent throughout the nation.
"Once again, Houghton business students just continue to amaze us with their level of intrinsic motivation to understand business principles," said Ken Bates, chair for the department of business and economics. "We're becoming convinced that the consistently strong results from our business students on this exam, year after year, is due to the combination of three things: the kinds of students who choose to study business at Houghton, the hands-on nature of the program and the pervasive culture of our Christian liberal arts environment."
The questions on the exam span the full scope of business and include areas such as accounting, finance, marketing, management and global business issues.
Business students at Houghton receive expert faculty instruction backed up by years of real-world marketing, public relations, advertising, management, human resources, leadership, accounting, finance, law, entrepreneurism, small-business management, and profit and not-for-profit experience. This, matched with the practical nature of upper-level business courses, accounts for the exceptional and consistent results within the department.
To find our more about Houghton College's business program, please visit http://www.Houghton.edu/business