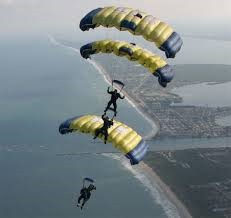 See some of the world's best parachutists landing on the America's largest coastal fortress
Newport, Rhode Island (PRWEB) May 21, 2015
Navy Week is designed to share the spirit of the United States Navy with the public, and honor those who have served. Fort Adams, America's largest coastal fortress, is pleased to participate in a series of events designed to delight, educate, and connect. Memorial Day, May 25 will kick off a week of events, starting with a full day at Fort Adams.
According to Rick Nagele, Executive Director, Fort Adams, "It's thrilling to see some of the best parachutists in the world leap out of perfectly good airplanes, diving towards the Fort from hundreds of feet in the air. Their precision control and ability to land 'on a dime' is really spectacular. I'm sure you'll enjoy this part of the day tremendously." They'll be landing about 2PM, weather permitting.
"We'll have a full day of activities for people to enjoy during the day on Monday," according to Robert McCormack, Director of the Visitor Experience at Fort Adams. "Our self guided tours will be free for the day, and we have free parking, so you'll have lots of options for free. We'll also be doing our guided tours, which are $12 for adults."
The day will also include visiting exhibits from the Navy and others. In addition, says Cara Wortly, who handles Fort Adams' events, "There will be a variety of great food and beverages in the beer garden. Spend two or three hours at the Fort, and then go visit some of Newport's other wonderful attractions."
Navy Day at Fort Adams starts at 10:00 AM with tours and static displays. There will be a variety of games for kids, and uniformed interpreters to describe the Fort.
The US Navy will be present with a gun deck exhibit from the USS Constitution. The sailors will show everyone how to load and fire the kinds of cannons that were mounted on our navy's sailing ships.
About Fort Adams
Fort Adams, largest coastal fortress ever built in North America, was second only to the Erie Canal as the largest construction project of its day in the United States. The Fortress was a learning laboratory for builders of fortifications. In many ways, this fortress can be thought of as the 'NASA of its day.' The builders experimented with critical construction elements and design features, tested, revised, and recorded their findings. They then communicated their results to other construction teams throughout the United States. In a sense, Fort Adams is where America learned how to build large, sophisticated military systems.
The Fort was active for well over 100 years, defended the coast of Southern New England and trained and dispatched soldiers abroad through four wars.
Today, Fort Adams is Newport, Rhode Island's edgy & adventurous learning and event destination. It offers corporations and individuals a variety of meeting and event sites, is host to the world famous Newport Folk & Jazz festivals, and was the North American Stopover for the Volvo Ocean Race, probably the premier sailing event in the world today.
About the Fort Adams Trust
The Fort Adams Trust is a 501 (c)(3) non-profit responsible for preservation, programming, and promoting the National Historic Landmarks in Fort Adams State Park in Newport, Rhode Island. Over 100,000 people tour the Fort and attend events in the Park annually. The Trust, descended from the Fort Adams Foundation, accepts donations to support its preservation and programming missions.
About Newport, Rhode Island
Newport, often called the City by the Sea, is also referred to as 'New England's second global city.' In addition to the incredible historic destinations and cultural activities, great restaurants & shops, and unrivaled scenic beauty, there is a cosmopolitan sophistication to the City. International visitors abound and you can hear multiple languages on the streets.