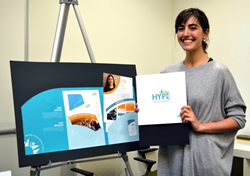 LOS ANGELES (PRWEB) May 26, 2015
Los Angeles educational nonprofit Helping Young People Excel (HYPE) has given the nod to a logo and other brand identity materials created by award-winning Woodbury University graphic design student Natalie Krakirian as part of a classroom community service project, the university announced today.
Woodbury graphic design students Trevor McHugh and Sara Lind were named second- and third-place winners, respectively.
Each year, third-year students from Woodbury's advanced graphic design studio class, taught by Associate Professor Cate Roman, compete against one another to design a graphic identity system for a local non-profit organization. Previously, Woodbury students have designed professional-quality logos, brochures, letterhead and the like for The Midnight Mission Family Living Program, The Screen Actors Guild Foundation, Burbank Health Care Foundation and the California Industrial Technology Education Foundation.
HYPE, which provides talented low-income middle school students with the guidance and resources to get into, and succeed, at select independent high schools in the Los Angeles area, was selected as this year's beneficiary. Nineteen students received a creative brief in January and presented three logos each at a critique held in February. Judges from HYPE narrowed the field to one logo each, and students spent the remainder of the term finalizing their logo and using it to design specific pieces of collateral.
HYPE Executive Director Mai Lee said there were a number of reasons why HYPE decided to participate in the program – and why Krakirian's work stood out from the other entries.
"Although we are a highly successful organization, we lacked a brand identity that is professional enough to make a positive impression on our independent school partners yet bold enough to attract the interest of the students who will benefit from our program," Lee said. "Natalie understood the direction we need to go in the future. When you looked at the way the package was put together, it was very professional, yet it also was very welcoming, so that a student will pick it up and look at it. Her work captured the essence of what HYPE is all about – helping students with high aspirations and dreams succeed."
"This competition emulates what our students will face in a real-world design studio, complete with 'clients' who may have strong opinions and candid critiques of their work at various stage of the process," Roman said. "Our objective is that students enter the workplace fully prepared to excel at whatever they do."
Now that her logo has been designated the winner, Krakirian will have the opportunity to produce a final brochure, and her work will be integrated into HYPE's website and social media programs. In April, she was named Emerging Graphic Designer of the Year, the top graphic design recognition in the International Design Awards (IDA). Six other Woodbury students topped the list of 2014-15 IDA winners.
Woodbury's Graphic Design Department is experiencing a record year, awards-wise. During the just-concluded academic year, students won 15 Design Merit Awards in the 2015 International New Talent competition sponsored by Graphis, The International Journal of Visual Communication in the largest single group recognition in the Graphic Design Department's history, Separately, in its April edition, design news magazine Graphic Design USA named Woodbury's Graphic Design program to its 2015 "Top Design Schools" listing. In February, four Woodbury graphic design students were named winners of the 2015 American Package Design Awards, sponsored by Graphic Design USA, bringing the total number of awards received by students enrolled in the university's Graphic Design program to more than 60 since 2009.
Woodbury's Graphic Design Program grants a Bachelor of Fine Arts degree, which is included in the university's accreditation by the National Association of Schools of Art and Design. The BFA is a professional degree, which translates to a top education resulting in strong, competitive student portfolios that stand out in the graphic design industry. Woodbury students consistently win international and national design awards, and have achieved recognition in entertainment design, web design, advertising design, package design, photography, identity design and environmental graphics.
Small class size allows individual attention from the professional faculty and educational experiences both inside and outside of the classroom, which provides students with the ability to create effective and engaging visual communication solutions. The program has gained a reputation for graduating top quality designers ready to take their place in the profession.
About Woodbury University
Founded in 1884, Woodbury University is one of the oldest institutions of higher education in Southern California. It offers bachelor's degrees from the School of Architecture, School of Business, School of Media, Culture & Design, and College of Transdisciplinarity, along with a Master of Arts in Media for Social Justice, Master of Architecture (MArch), Master of Interior Architecture (MIA), Master of Science in Architecture (MSArch), and Master of Leadership. The San Diego campus offers Bachelor of Architecture and Master of Architecture degrees, as well as an MSArch degree with concentrations in Real Estate Development and Landscape + Urbanism. Woodbury ranks 15th among the nation's "25 Colleges That Add the Most Value," according to Money Magazine. Visit woodbury.edu for more information.