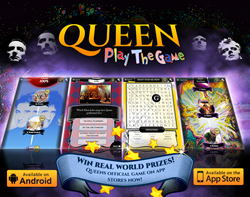 The first official game to feature original Queen music, imagery and more
(PRWEB UK) 27 May 2015
Queen: Play the Game is the band's first official app. Created by SoshiGames, the game is a digital puzzle and trivia game compendium, and it is now available on the Apple's iTunes and Google Play stores.
The game brings together high-resolution images from Queen's official archive and re-sampled sounds from the band's hits—as well as many recordings that music fans may not have heard. Players can test their knowledge of the band, solve puzzles, unlock official artwork, discover new music and win real-world Queen merchandise in monthly competitions.
Players can chose the type of puzzle and difficulty level, allowing new and existing fans, young or old, to enjoy Queen: Play the Game. New puzzle packs, game modes, art content and more will be released on a bi-monthly basis, so there will always be something new to explore.
SoshiGames, a company focused on making games for the biggest bands, worked very closely with Queen's official archivist and management team to create Queen: Play the Game.
"It was very important for us to be able to use only official Queen imagery and the band's incredible portfolio of music," says Cliff Dennett, CEO of SoshiGames. "Although this added complexity to the contractual and developmental process, we wanted to create an authentic and high-quality experience for the fans, one befitting a band of Queen's stature."
SoshiGames signed deals with various rights holders to bring the full power of Queen to the game.
"It's been a complex but exciting journey, aligning the needs of all of the rights holders, so we can include original music recordings and official imagery," Dennett said. "It's been worth it though. After all, Queen never did anything by halves, and it was important to all of us that the game reflected this."
Greg Brooks, Queen's official archivist, worked closely with SoshiGames, curating a lot of the game's content. Brooks remarked, "Queen: Play the Game presents a lot of imagery you may not have encountered before and in brand new puzzle formats. We submitted over 1,400 questions to SoshiGames, as well as a mass of imagery, and they've presented the best of it in an inventive, logical way—often in contexts you won't expect."
Queen: Play the Game spans the history of the band, from the early days and the release of its first album to "Made in Heaven" and the band members' solo projects. SoshiGames plans to launch a significant new content pack every two months throughout its two-year exclusive deal.
The developers will also be releasing a number of other games for high-profile bands, all growing over time into significant game compendiums to provide fans a new way to interact with their favorite artists.
For more information, please visit http://www.soshigames.com/. To contact the company, email cliff.dennett(at)soshigames(dot)com or call +44 7968 538989.
About SoshiGames
Creating games is the easy bit, but creating ones that make the most of musical recordings, incorporate official materials and align with the band's brand takes a particular set of skills and passions. Doing this takes; time, technical skill, game design knowledge, business acumen and a specific appreciation of the rights complexities inherent in recorded music.
SoshiGames was founded in 2010 and since then has been exploring game-based commercial models that work for rights holders. Our commercial conversations are typically with managers, record labels, music publishers and rights organizations.
Our studio is at the Innovation Birmingham Campus near Aston University in Birmingham, UK and is a mix of creative, technical and sector expertise.