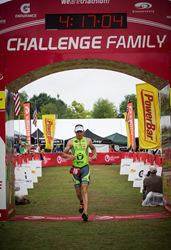 Knoxville, TN (PRWEB) May 22, 2015
Power Systems is proud to announce the sponsorship of Elite Triathlete Andrew Drobeck for the 2015 race season. Drobeck is in his second year of racing in the professional division and also serves as a firefighter with the Missoula Fire Department in Missoula, MT. He entered the triathlon scene in 2009 and became a Pro in 2014. During his career, he has had 15 1st Place finishes. In his first year as a Pro, Drobeck recorded top 10 finishes in all seven of his 2014 races, including two 2nd Place finishes in the Pacific Crest Triathlon (June, 2014) and The Utah Half (August, 2014). Drobeck is currently scheduled to race in five races in the 2015 season, including three half-distances and two full-distances.
This past weekend, Drobeck competed in the 2015 Challenge Knoxville Half, finishing 13th out of 56 athletes in the Pro field with an overall time of 04:17:10. He next travels to Atlantic City on June 28, 2015, for the Challenge Atlantic City Full.
About Power Systems
Founded in 1986, Knoxville-based Power Systems is a leading provider of fitness and performance products and is recognized throughout the sports and fitness industries for its complete selection, superior customer care, and fast delivery. Power Systems is committed to quality, innovation, and service through our knowledgeable team that is dedicated to exceeding customer expectations.