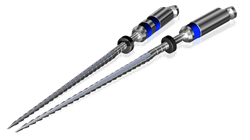 I felt very confident while using this system!
South Hackensack, New Jersey (PRWEB) May 29, 2015
Dental Economics Editor Dr. Chris Salierno, recently participated in a video review of Essential Dental Systems (EDS) newest endodontic instrumentation system; Tango-Endo. Watch the video here: http://tinyurl.com/q6e3nsq
Dentists such as Dr. Scott Graham of Michigan state:
"I was blown away by how efficient and easy it was to clean and shape the three canals in about 10 minutes. The fit of the Tango-Endo gutta purcha points was excellent too. No tip trimming required. I'm excited about your new system...".
The Tango-Endo Introductory Kit is available immediately through dental dealers worldwide.
For more information visit http://www.edsdental.com/tangoendo or call 201-487-9090