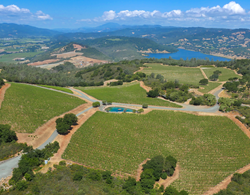 Pritchard Hill is Oakville east, but with altitude. I think I'm making some of the best wines here at our hillside estate that I've ever made and I've worked with some very good valley vineyards. – Tim Mondavi
St Helena, CA (PRWEB) May 21, 2015
32 acres of exceptional Napa Valley vineyard now offered for sale are set to add a new name to the list of top vineyard owners in America's premier winemaking region. These vineyards are the centerpiece of an 80-acre property on Pritchard Hill including an impressive winery permit, massive caves, and stunning residential site. Described by Wine Spectator as, "the Rodeo Drive of the Napa Valley," Pritchard Hill is home to many of the valley's top wineries including Colgin, Bryant Family, Chappellet, and Continuum. These famed labels use fruit grown in the hill's rocky soil and unique microclimate to produce wines that command premium prices and achieve cult status. This unprecedented opportunity to join their ranks is priced at $55,000,000. James Keller of Coldwell Banker Brokers of the Valley is facilitating the sale.
Top Napa winemaker Philippe Melka has said, "Pritchard Hill provides some of the best sites in all of Napa Valley." With a mere 340 acres of vineyard planted on some of the valley's most expensive land to acquire and develop, demand from leading winemakers for Pritchard Hill fruit has only grown with each successive high-scoring vintage. Set on cliffs that rise above the famed Oakville AVA this Pritchard Hill property offers soaring views of the entire Napa Valley, with Oakville neighbors like Dalle Valle and Screaming Eagle clearly visible on the valley floor below.
The existing vineyards have produced multiple 96-point rated wines as well as a 99-point bottling and are paired with an absolutely stunning residential building site. The property holds an impressive permit for a 50,000-gallon winery, allowing for future growth and expansion, as well 20,600 feet of winemaking and hospitality caves that are dug and near completion. The property represents a once-in-a-generation winemaking and lifestyle opportunity for an individual seeking instant entrée into the Napa Valley elite.
James Keller of Coldwell Banker Brokers of the Valley can be reached for inquiries and showings at (707) 333-1184 or email at jkeller@cbnapavalley.com.
More information is available at http://www.longranchroadestate.com.
About the Property
> The property on offer contains two vineyard parcels – 14 acres of established vineyard and 17 acres recently redeveloped and planted to 100% Cabernet Sauvignon – as well as additional acreage featuring multiple potential hospitality and residential areas, pond, existing hospitality areas, and 20,600 feet of caves spread across 80 total acres.
About Pritchard Hill
> The Pritchard Hill area is situated in the Vaca Mountains between Lake Hennessey and the Atlas Peak AVA, with plantings at elevations of 700-2,000 feet. Pritchard Hill is not an official American Viticultural Area.
> Soils on Pritchard Hill are shallow, well drained, and exceptionally rocky with three distinct series found in the area: Hambright soils with dark, organic upper layers that rarely develop beyond 6-12 inches in depth; Sobrante soils with organic upper layers running to 36 inches and more clay content; and shallow, well-drained Henneke soils that form in serpentine rock and are rich enough in magnesium to cause vigor-reducing potassium deficiency.
> The climate on Pritchard Hill benefits from elevations above the fog line, boosting sun exposure, and also the moderating effects of nearby Lake Hennessey, promoting even ripening.