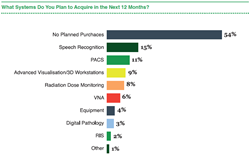 This report details the European market in ways that has never been done before.
(PRWEB) May 26, 2015
The European imaging IT market will grow in 2015, as a new report suggests over 45% of healthcare providers plan to make purchases.
Over 240 European healthcare providers participated in peer60's latest industry report. Data collected from these participants show that speech recognition is a top priority for providers while digital pathology takes a back seat.
"Many imaging IT vendors are poised to gain new business in Europe this year," said peer60 CEO Jeremy Bikman. "This report details the European market in ways that has never been done before."
The latest report from peer60 is available segmented by the following countries and regions:

UK
France
Germany
Norway
Sweden
BeNeLux
"This report is available to the public at no cost," said peer60 Vice President Tyler Page. "Our system can collect this information very quickly, so we are providing it as a public service to help educate the industry."
This overarching report is available in the Queen's English. The country-specific breakdowns will be released in the coming weeks as unique reports in the predominant language of the country or countries covered.
The following vendors are included in the latest peer60 report:
McKesson
Sectra
Agfa
Philips Healthcare
Nuance
Siemens
Vital
TeraRecon
Ventana
Visage Imaging
Merge
Omnyx
Lecia
Max Manus
Carestream
The full report can be accessed here. This report will also be available in French, German, Swedish, Dutch, and Norwegian. Expect these translations within the coming weeks.
About These Reports
peer60 publishes reports on the healthcare industry every four to five weeks as a public service. These reports are available at no cost. If you would like to suggest a topic for a future peer60 report, email peer60 Vice President Tyler G. Page at tpage(at)peer60(dot)com.
About peer60
As a pioneer in Smart Data, peer60 is committed to helping businesses acquire crucial market and customer satisfaction data in a timely, affordable manner. peer60's platform enables companies to receive four times the response rate in a quarter of the time, reaching relevant audiences all around the world. Join the companies around the globe who are already getting Smart Data from peer60. For more information visit https://www.peer60.com or call (801) 692-1532.