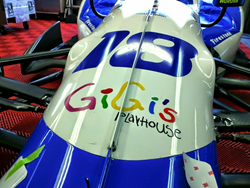 Hoffman Estates, IL (PRWEB) May 21, 2015
GiGi's Playhouse Down Syndrome Achievement Centers announced that its logo will appear on the #18 Dale Coyne car driven by Carlos Huertas in the 99th running of the Indianapolis 500 on Sunday, May 24th. Huertas will start in position 18 after qualifying on Sunday. The Indianapolis 500 is the world's largest single day sporting event with an estimated 400 million viewers, broadcast in over 200 countries and approximately 30 different languages.
GiGi's Playhouse Down Syndrome Achievement Centers, headquartered in Hoffman Estates, IL, offers educational, therapeutic and career development programming at no cost to individuals with Down syndrome and their families. With locations in 23 cities around North America, including one of its newest locations in Indianapolis, IN, GiGi's Playhouse serves all ages and its message is inspiring tens of thousands of families all over the world. All programs at GiGi's Playhouse are specifically designed for the unique needs of those with Down syndrome and aim to maximize self-confidence and empower individuals to achieve their greatest potential. GiGi's Playhouse also works tirelessly to change society's outdated perceptions about the amazing potential of individuals with Down syndrome.
GiGi's Playhouse Indianapolis proudly opened its doors on January 24th, 2015 to become the 19th location in North America. The organization expects to have 30 locations by the end of the year. The addition of the logo to the #18 car in the Indy 500 is a result of efforts by GiGi's Playhouse to further its mission of bringing positive and accurate information about Down syndrome.
"GiGi's Playhouse is very excited to be part of the world's greatest race at the Indianapolis Motor Speedway. We are very thankful to partner with Dale Coyne Racing to bring Down syndrome awareness to a global audience," said Megan Peck, Board President of GiGi's Playhouse Indianapolis. "It takes a great deal of determination to qualify for the Indy 500, just as it takes determination for individuals with Down syndrome to break down stereotypes and barriers. By setting goals, utilizing team and community support and working hard to achieve their personal best, they can and will persevere. Dale Coyne Racing, Team Manager Darren Crouser and Carlos Huertas are helping GiGi's Playhouse change outdated perceptions and enrich the lives of people with Down syndrome and their loved ones."
"As our footprint grows, and through incredible partners like Dale Coyne Racing, we can more effectively serve our mission of truly changing the way the world views Down syndrome," says GiGi's Playhouse CEO and founder Nancy Gianni. "The more communities see individuals with Down syndrome and the organizations that support them in their day-to-day lives, the greater opportunity we have to fundamentally change societal perceptions and impact outcomes. The Indy 500 is on the world stage, and we are so very proud to be right there sharing our global message of acceptance to all involved!"
Dale Coyne Racing: Dale Coyne Racing is a long-standing staple in open-wheel racing. Starting in 1984 as a driver/owner, Coyne ran several seasons of Indy car races. For several years the team raced with a stock-block engine, making Coyne a fan favorite. With the technical expertise of Coyne, the team built its own chassis in 1986, known as the DC-1.Stepping out of the cockpit in 1990, Coyne turned his talents to the tutelage of several up-and-coming drivers. From Dean Hall in 1990 to Paul Tracy in 1991 and beyond, Coyne's ability to recruit and coach drivers has shown well for drivers who have competed with this seasoned team. Before making the transition to the Verizon IndyCar Series full time in 2008, the team competed in the Champ Car World Series with drivers such as Oriol Servia, Cristiano da Matta, Katherine Legge, Bruno Junqueira, Alex Barron and Michel Jourdain Jr.Dale Coyne Racing recorded its first victory in July 2009 at Watkins Glen International with Justin Wilson behind the wheel.
About GiGi's Playhouse: GiGi's Playhouse is a 501(c)(3) tax-exempt charitable organization founded in 2003. GiGi's Playhouse is a series of unique Achievement Centers serving children and adults with Down syndrome. Each Playhouse makes a lifetime commitment to participants and their families, and each location provides unique educational and therapeutic programs in a format that individuals with Down syndrome learn best. All programs aim to maximize acceptance and self-confidence, and intend to empower children and adults to achieve their greatest potential. All educational, therapeutic and career training programs are offered to families at no charge. GiGi's Playhouse currently has 23 Playhouses in the US and Mexico. Plans are in place to bring the total number of Playhouses to 30 by the end of 2015. Annually, more than 25,000 participants benefit directly from Playhouse programs and the number continues to rise. GiGi's Playhouse has been featured on NBC Nightly News with Kate Snow and Tom Brokaw's "An American Story" Radio Show. Currently there are more than 150 inquiries annually for new Playhouses worldwide.
Visit GiGi's Playhouse headquarters, located at 2350 W. Higgins Road, Hoffman Estates, IL
For more information on how to support GiGi's Playhouse, visit http://www.gigisplayhouse.org
GiGi's Playhouse is a 501(c)3 nonprofit supported by thousands of volunteers and funded solely by donations.