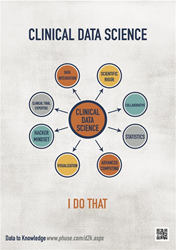 This PhUSE deliverable will help companies to automate the de-identification process and will help reduce variability between sponsors
(PRWEB) May 21, 2015
In 2014, the European Medical Agency (EMA) published a policy on the publication and access to de-identified clinical-trial. Ahead of this guidance and forthcoming EU law, many pharmaceutical companies have already started to prepare their own de-identified data to deal with research requests.
As the voice of clinical data scientists towards standard organizations and regulatory agencies, PhUSE has been an advocate of sharing and exchange of knowledge since its inception. In the new era of data transparency and sharing data with researchers, companies are defining their processes and de-identification guidance in order to comply with data privacy regulations. In particular, it is possible for researchers to request access to data across sponsors. A combination of the difference of company's data models and de-identification techniques may make the analyses cumbersome and error-prone.
In July 2014 a PhUSE Working Group was established to define a set of rules for CDISC data models. PhUSE Special Projects Director Jean-Marc Ferran, ran a nine month project with over twenty participants from Pharmaceuticals, CROs, Software and Academia, as well as CDISC and Data Privacy experts to collaboratively define the first de-identification standard for CDISC SDTM 3.2 . This provides the industry with a consistent approach to data de-identification and increases consistency across anonymized datasets. The working group also collaborates closely with TransCelerate who have developed a data model-neutral data de-identification guidance document in order to ensure a high level of consistency between the 2 sets of deliverables.
Following an external review period, PhUSE has now published the first version of the data de-identification rules and they can be downloaded from the PhUSE Website. Ferran says, "With CDISC being the De facto industry standard for the submission of clinical data, this PhUSE deliverable will help companies gain efficiency, automate the de-identification process and will help reduce variability between sponsors when de-identifying clinical data".
About PhUSE
PhUSE, Share – Contribute – Advance, provides the industry with the premier platform for creating and sharing ideas, tools and standards around data, statistical and reporting technologies; PhUSE is a non-profit, volunteer-supported, community of professionals who are passionate about advancement of clinical information. Since its inception, PhUSE has expanded from its roots as a conference for European Statistical Programmers, to a global platform for the discussion of topics encompassing the work of Clinical Data Scientists and eClinical IT professionals.