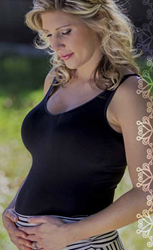 I always tell people, "Listen to your body."
(PRWEB) May 22, 2015
Gwen (Marzano) Eager, Garden of Life's(a top whole food supplement company) educator and a certified raw vegan chef, is pregnant and has released some mom-friendly healthy recipes. When asked if she was going to continue to be a raw vegan in pregnancy, Gwen responded, "No way. Although a lot of my recipes are vegan friendly, I stopped eating this way about three years ago. In order for my body to function properly, it needed fat and protein from animal products such as fish and eggs. I still maintain about a 70 percent plant-based diet of primarily raw veggies and fruit; nuts; seeds; healthy oils such as olive and coconut; and, occasionally, some cooked legumes. Through experimentation, I learned that my body does best with eating fish a few times a week, eggs several times a week, while about once a month I will make meatballs with grass-fed lamb and beef. This took me years to figure out, but I know that it helped to prepare my body for a healthy pregnancy. I always tell people, "Listen to your body." Everyone is different, and we require different foods at different stages in our lives. There is not a "one diet fits all" answer for optimal health. One thing we can all agree on, though: processed food doesn't add value to your health, so if you're going to eat it, do so sparingly."
Grain Free Banana Pancakes:
(Gwen's note: "I developed a sweet tooth at about 24 weeks into my pregnancy, which was ignited the moment I got out of bed in the morning. I decided to create this pancake recipe which reminds me of flan. Not only is this recipe fabulously delicious, it's also a great balance of healthy fats, carbs and protein. It's vegetarian, gluten free, dairy free and soy free as well! Use all organic ingredients when possible.")
INGREDIENTS (Serves 1)

2 eggs
1 ripe banana
1 teaspoon Garden of Life RAW Organics Chia Seed
1⁄4 teaspoon pumpkin pie spice
1⁄4 teaspoon cinnamon
8 drops of liquid stevia (or 1 Tablespoon of honey)
1 Tablespoon Garden of Life Extra Virgin Coconut Oil Optional:
1 Tablespoon almond butter
1 Tablespoon maple syrup
PREPARATION
Peel banana, slice and place in a mixing bowl. Mash the banana with a fork. Add in the 2 eggs, spices, chia seed and stevia. Mix everything together with a fork. Place coconut oil in a skillet and heat to medium high. Pour in your "batter" and cook it like a pancake. Typically, it will only take 1-to-2 minutes on each side to cook. Option: Spread almond butter over cooked pancake and top with maple syrup. Eat right away. Another option is to use 1⁄2 cup of cooked sweet potato instead of the banana.
Delicious Red Lentil Soup:
Gwen's note: ("During my second trimester, I have been able to move away from bland foods and incorporate spices into my recipes. The spices in this soup make it more exciting than a typical lentil soup and the ginger, of course, helps with digestion. This soup is vegan, gluten free, dairy free and soy free! Use all organic ingredients when possible.")
INGREDIENTS (Serves 4-6)

2 cups of red lentils
8 cups of vegetable broth
3 Tablespoons Garden of Life Extra Virgin Coconut Oil • 5 garlic cloves, finely chopped
1 cup red onion, chopped into small pieces
1 1⁄2 cup carrots, chopped into small pieces
1 1⁄2 Tablespoons ginger root, finely chopped
1 potato, medium sized, peeled and cubed
2 handfuls of greens (such as spinach or chopped kale)
1⁄2 Tablespoon curry powder
1 1⁄2 teaspoons cumin powder
1⁄2 teaspoon red pepper flakes
1⁄4 teaspoon cinnamon
PREPARATION
In a large pot, heat coconut oil and add in onions, garlic, carrots and ginger. Sauté these ingredients for about five minutes. Next, add in vegetable broth, lentils, potato and spices and reduce heat to a simmer and let cook for 15-20 minutes (until the lentils soften). Finally,
SERVES toss in your greens, stir and let cook another 10 minutes. Serve 4-6 immediately, refrigerate for one week or freeze for two months.
Mamma G's Cookies:
Gwen's note: (If you don't want to use butter in this recipe, you can use all coconut oil. During pregnancy, I have been incorporating some grass-fed butter because it is very high in fat-soluble vitamins, which are great for the immune system and also contains generous amounts of calcium, selenium, iodine and potassium. Mamma G's Cookies are vegetarian, gluten free, soy free and dairy free (if you opt out of using butter). Use all organic ingredients when possible.)
INGREDIENTS

2 cups gluten-free baking flour
3⁄4 teaspoon baking soda
1⁄4 teaspoon sea salt
1⁄4 cup melted butter
1⁄2 cup melted Garden of Life Extra Virgin Coconut Oil • 1⁄4 cup crunchy peanut butter
2 eggs
1⁄4 cup maple syrup
1 1⁄4 cups turbinado sugar or coconut palm sugar
2 teaspoons vanilla extract
2 cups of dark chocolate chips
PREPARATION
Mix the first three dry ingredients and set aside. Next, mix together the following seven ingredients with an electric mixer or in the food processor. Gradually add in the flour mixture until you create a nice cookie dough batter. Manually stir in chocolate chips. I prefer refrigerating the batter overnight before baking the cookies. Preheat the oven to 375 degrees and bake cookies for 10-to-12 minutes.
Unbelievable Raw Fit Smoothie:
INGREDIENTS
1 scoop Garden of Life RAW Fit
(or any Garden of Life protein powder)
2 cups fresh carrot juice (unpasteurized)
1 Tablespoon avocado
1 Tablespoon Garden of Life RAW OrganicsTM
Chia Seed
1⁄2 teaspoon vanilla extract 6-8 ice cubes
PREPARATION
Place all ingredients into a blender and blend until smooth. Enjoy immediately!
Healthy Vitamins is an online health food store specializing in whole food supplements. Gail Bowman is the owner of Healthy Vitamins and can be reached at 888-244-8948.