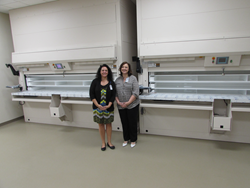 This expansion allows us to improve efficiency and safety by streamlining inventory and adding automation.
SURPRISE, ARIZ. (PRWEB) May 21, 2015
As part of its philanthropic partnership with Banner Del E. Webb Medical Center (BDWMC), Sun Health Foundation funded a $3.25 million project to relocate and equip the medical center's new inpatient pharmacy with the most up-to-date features and technology.
The new pharmacy is scheduled to open June 2. The pharmacy's 45 staff members will begin moving from the current location to the much larger 4,895-square-foot space in the coming days.
The current pharmacy has been using a shelf and manual ordering system for medications. The new pharmacy will feature the latest carousel technology, which automates ordering, receiving and stocking medications and further improves accuracy and patient safety. Two side-by-side carousels will house the majority of medications used at the medical center. On average, the department dispenses more than 6,000 doses per day, which adds up to more than 1.9 million doses per year.
"Our pharmacy team is truly excited to move into our beautifully designed new home," said Margaret Szczotka, BDWMC Pharmacy director who has worked in the department since 2009. "This expansion allows us to improve efficiency and safety by streamlining inventory and adding automation."
Another centerpiece of the new pharmacy is a dedicated clean room used for compounding sterile preparations, which include IVs and chemotherapy medicine. Clean rooms create a pollutant-free, controlled environment designed to prevent infections and protect patients and employees.
"Environmental improvements will improve our compliance with standards of care, considered to be best practice. All of these improvements will contribute significantly to patient safety and satisfaction," Szczotka said.
Other features of the new pharmacy include:

A storage area twice as large as the current area, making it easier to locate items quickly. The area also will have organized floor track racks with a large space for receiving.
More work stations for pharmacists and technicians
A secured controlled-substances room
High-tech, pharmaceutical-grade refrigerators and freezers with wireless temperature monitoring system
A conference room and more office space for the pharmacy team
Sun City West retiree Bob Droesch has volunteered in the pharmacy for the past 23 years and has seen the department change and grow. He's excited about the new location. "It really looks good. There's plenty of room that we don't have now," said Droesch who also is a longtime donor to Sun Health Foundation.
About Sun Health Foundation
For nearly 50 years, Sun Health Foundation donors have supported superior health care in the West Valley. The Foundation is the philanthropic partner to Banner Boswell and Banner Del E. Webb medical centers, the Banner Sun Health Research Institute, as well as community wellness programs and senior living services provided by Sun Health. For more information, go to sunhealthfoundation.org/.
About Banner Del E. Webb Medical Center
Banner Del E. Webb Medical Center is a community hospital in Sun City West, Ariz. The hospital specializes in orthopedic surgery, heart care, emergency care, cancer care and obstetrics. Banner Del E. Webb is part of Banner Health, a nonprofit health care system with 28 hospitals in seven states. For more information, visit http://www.BannerHealth.com/Webb.
# # #