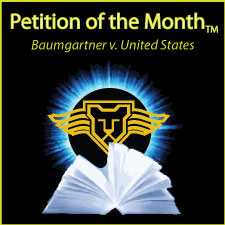 Criminalizing conversations that have nothing, even remotely, to do with someone else's involvement in a federal crime ... creates a slippery slope.
(PRWEB) May 21, 2015
Certiorari Printer Supreme Court Press has named Baumgartner v. United States, Supreme Court Docket No. 14-1071, to be its Petition of the Month(TM). According to the petition filed by Donald Bosch and Ann Short of the Bosch Law Firm, for nearly 19 years, Mr. Baumgartner was a Knox County, Tennessee criminal judge. He became addicted to prescription drugs, was convicted of official misconduct, and lost his position on the Tennessee bench (Tennessee Docket No M2011-00704-CJ-CJO-CJ). Federal prosecutors then charged him under federal law for misprision (U.S. District Court, Eastern District of Tennessee, Case No 3:12-CR-60). Specifically, they alleged that character references he made to help a person, whom he knew to be a drug addict, were acts of concealment, despite the fact that they were not made to law enforcement. Mr. Baumgartner challenges this conviction on First Amendment grounds and argues that his speech to a private person has no concealing affect, since it did not happen in the context of a criminal investigation.
According to the petition, "Criminalizing conversations that have nothing, even remotely, to do with someone else's involvement in a federal crime—conversations that cannot possibly hinder federal law enforcement efforts or impugn the integrity of government processes. The question is not whether criminalizing these conversations creates a slippery slope but, instead, just how steep is this slope."
The Baumgartner petition delves into the history of the misprision statute, researching over 600 misprision cases. As the document states, "(Of the 600 cases) With the exception of three or four instances, the misrepresentations were made to federal authority figures, which, of course, did not occur in Mr. Baumgartner's case." The petition goes on to note that there is a void in Supreme Court jurisprudence on misprision. The Supreme Court filing continues, "The Supreme Court has mentioned misprision of felony, somewhat in passing, in three decisions."
The Bosch Law Firm was kind to offer words of praise for their experience with the Supreme Court Press. Ms. Short states, "We were impressed and totally satisfied with the experience working with the Supreme Court Press . . . It was liberating not to worry about the dozens of intricate formatting and procedural rules that must be followed before the Supreme Court will accept a filing. We could focus on developing persuasive arguments and explaining why a writ of certiorari should be granted . . . The draft markup we received thankfully caught a few errors that we missed. Comments within the draft markup were relevant, and although we did not adopt all the suggestions, many of them convinced us to change certain language and emphasis." To read more about the interview with Mr. Bosch and Ms. Short, follow this link:http:// http://www.supremecourtpress.com/Petition-of-the-Month/Baumgartner-Petition-May-2015.html
About the Supreme Court Press: The Supreme Court Press is a Supreme Court legal printer and a Supreme Court filing service. The Supreme Court Press files petitions for writ of certiorari in compliance with the Rules of the Supreme Court. But that is only the tip of the iceberg of the value that we add - our expert team has the editorial talent and Supreme Court brief experience to provide meaningful, game changing suggestions to your document. We will work hand in hand with you to exquisitely prepare, edit, print, and file your documents, taking the worry out of the process for you, and improving your odds of getting in. Call us at 888-958-5705 or email us at editor@supremecourtpress.com to discuss your filing needs.
About the Petition of the Month(TM) : The Supreme Court Press' Petition of the Month(TM) program recognizes applicants to the Supreme Court with well-written petitions for writ of certiorari that address important questions of law. We look for cases that meet the criteria of Rule 10 of the United States Supreme Court – important issues where the underlying decision is in conflict with the Supreme Court, another Court of Appeals, or the United States Constitution. If you have a pending petition that you believe is worthy of Petition of the Month(TM) advice, you can email us at editor@supremecourtpress.com
Disclaimers: The Supreme Court Press does not provide legal advice. The Supreme Court Press does not endorse either party in this matter and expresses no legal opinion on any case selected as Petition of the Month(TM)