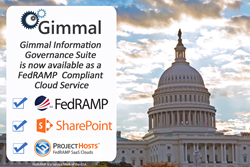 Houston, TX (PRWEB) May 21, 2015
Gimmal, a leading provider of SharePoint lifecycle management and SAP interoperability, announced that it has partnered with Project Hosts, a Cloud Service Provider (CSP), to deliver its industry-leading information governance solutions for Microsoft SharePoint in a FedRAMP SaaS-level compliant cloud. U.S. government agencies in need of improved governance, management and access to content and documents can immediately gain access to the Gimmal cloud service deployed on a SharePoint system that complies with all FedRAMP rev4 moderate security controls.
"Having our Records as a Service solution available in a FedRAMP compliant cloud is a significant milestone for Gimmal," said David Quackenbush, president of Gimmal. "We can now further support federal and state agencies and ensure that all regulatory and compliance requirements for their content and documents can be met with SharePoint, either on-premises or in a cloud environment."
The Gimmal Compliance Suite for Microsoft SharePoint helps extend and enhance the native records and content management capabilities of SharePoint ensuring that content, documents and the SharePoint environment they are stored in are managed consistently within a U.S. government department or agency. Gimmal Compliance Suite provides a better experience to government users in both federal and state agencies by improving usability and findability, enables agencies to manage information against a lifecycle, facilitates greater consistency and reduces overall IT costs.
In collaboration with Microsoft, Gimmal has developed Records as a Service, which provided the first Department of Defense 5015.2 certified records environment in the cloud for federal, state and local government agencies. Adding to this are capabilities designed for the cloud first with controlled sharing and physical information management.
About FedRAMP
The Federal Risk and Authorization Management Program, or FedRAMP, is a government-wide program that provides a standardized approach to security assessment, authorization, and continuous monitoring for cloud products and services. This approach uses a "do once, use many times" framework that saves an estimated 30-40% of government costs, as well as both time and staff required to conduct redundant agency security assessments. FedRAMP is the result of close collaboration with cybersecurity and cloud experts from the General Services Administration (GSA), National Institute of Standards and Technology (NIST), Department of Homeland Security (DHS), Department of Defense (DOD), National Security Agency (NSA), Office of Management and Budget (OMB), the Federal Chief Information Officer (CIO) Council and its working groups, as well as private industry.
About Project Hosts
Project Hosts, Inc. is the recognized leader in hosting SharePoint, Project Server and Dynamics CRM dedicated Custom Clouds for Microsoft Partners, enterprises and government agencies. Our dedicated clouds deliver advantages well beyond those of public cloud offerings such as enhanced security, FedRAMP compliance, application integration, real-time reporting and business intelligence, performance guarantees, and our renowned Person-2-Person support. As a U.S. Government recognized CSP (Cloud Service Provider), our dedicated clouds are FedRAMP compliant at the SaaS level, supporting 100% of the security controls required to meet this U.S. Federal Government mandate.
About Gimmal
Gimmal is the world's leading provider of Microsoft SharePoint solutions. Our software platform extends and enhances SharePoint enterprise information management and governance, and provides SAP content archiving and interoperability. Using Gimmal's award-winning solutions, you can easily transform SharePoint into a platform to consistently govern and manage the content, documents and records in your organization and access content online or offline from your Windows 8 PC, Tablet, or Windows Phone.