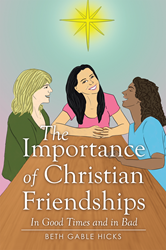 Healing is accomplished through the thoughts, words and actions of fellow Christian friends
WASHINGTON, D.C. (PRWEB) May 21, 2015
Are Christian friendships different from other relationships when it comes to navigating life's changes?
For Beth Gable Hicks, the value of both maintaining and creating Christian friendships was made clear during her late husband's severe health issues. Surrounded and supported by a group of Christian friends and family, Hicks found strength and witnessed the healing power of faith and fellowship.
Using personal experience and various Bible passages, Hicks examines the characteristics of strong, Christian friendships and how individuals can better themselves to be a more supportive friend in times of difficulty in her book "The Importance of Christian Friendships: In Good Times and in Bad."
"My hope is that by sharing my thoughts and observations, readers will walk away with a renewed sense of hope that Christ will help them through periods of grief and change," Hicks said. "This healing is accomplished through the thoughts, words and actions of fellow Christian friends."
Highlighting qualities ranging from forgiveness and honesty to courage and compassion, Hicks shares reflections, personal stories and the differences between Christian and non-Christians regarding the characteristics of significant friendships.
For more information, visit http://www.theimportanceofchristianfriendships.com.
"The Importance of Christian Friendships: In Good Times and in Bad"
By Beth Gable Hicks
ISBN: 978-1-49908-008-7
Available in softcover, hardcover, e-book
Available on Amazon, Barnes & Noble and Xlibris
About the author
Beth Gable Hicks is a member of The Falls Church Anglican in Falls Church, Virginia, and serves on the altar guild and pastoral care teams. A native Kentuckian, she was a political appointee during the administrations of George H. Bush and George W. Bush and is currently the East Coast lead for AllSides, Inc. She earned her BA in business administration from Vanderbilt University and her MPA from George Mason University. She is an active member of the DC DAR, and when she is not traveling or visiting family and friends, she resides in McLean, Virginia.
# # #