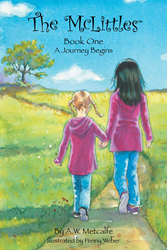 NEW YORK, NY (PRWEB) May 21, 2015
The McLittles, a new adventure book series for children aged 8 to 12, will debut at BookExpo America 2015 at the Javits Center in New York City May 27-29, 2015.
Ingenuity, courage, leadership, cooperation and compassion—these are the values that underlie the stories about five little girls aged three to eight, collectively known as the McLittles. They come together in a world where everyone seems to have mysteriously disappeared. Each girl has her own challenges and her own special gifts, qualities that are central to their safety and survival. Although they face daunting trials living in the wild, they learn that through their combined efforts, they can achieve just about anything. In " The McLittles Book One—A Journey Begins," the youngest character, Tuffy McBaby, applies her innate power over animals to keep her fellow McLittles safe, establishing herself as a fearless wildlife wrangler. In "The McLittles Book Two—Through Thick and Thin," Sweety McSmall, although tiny in size, has a heart so generous that she heals with the power of love.
"When my daughter was little, we used to make up stories together. I always tried to do more than just entertain her, and designed stories to help her feel strong, capable and independent. My ultimate goal in writing The McLittles was to inspire children to be kind, courageous leaders," says author A.W. Metcalfe. "It is exciting to introduce the first two McLittles books at BEA 2015, and for the young heroines of these stories to make their world debut at such an important event."
The author grew up in rural Yorkshire, England, where children could explore the countryside unrestricted by adults. Based on his childhood, he chose a rustic setting for The McLittles books, in which children are self-reliant. He is currently working on the third book in the series entitled "The McLittles Book Three—Beneath the Frozen Ground," expected out in early 2016.
BookExpo America (BEA) is the largest book and author event for the North American publishing industry. The McLittles are published by Dog Ear Publishing in conjunction with Connective Arts.
For more information, please visit:
http://www.mclittles.com/
https://twitter.com/iq2burn
https://www.facebook.com/pages/The-McLittles/366669706816283