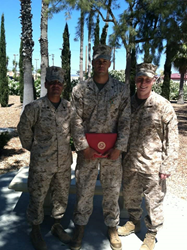 The Few, The Proud, The Marines
Fort Lauderdale, FL (PRWEB) May 21, 2015
Keiser University (KU), having been founded by two entrepreneurs, has always encouraged the visions of students who are focused on building a business from the ground up. In acknowledgement of May being National Military Appreciation Month, Keiser University recognizes George Casey, a Business Administration student at the Fort Lauderdale campus, as an innovator who identified unmet needs and worked to fill the void by starting two businesses of his own.
After honorably serving for five years in the United States Marine Corps, due to health concerns, Casey made the decision to leave the Marines and to pursue new ventures, such as completing his Bachelor's degree. Prior to enrolling at KU Casey started two businesses to meet voids he found in the marketplace. One of the businesses he started with a friend, SunCoast CPR, a construction, electrical, and HVAC business. This clever concept was a catch-all business designed to help "bring your house back to life". Casey works on the website, marketing and accounting for the business. His second business, Gentleman of Combat, is directed at serving the needs of men and women who are nearing the end of their time in the armed services or who have already been discharged. Casey serves as a mentor to help them transition to civilian life and assists with services that are available to veterans. This is going to be an ongoing project with potential to expand and grow in the future. He is in the process of filing the necessary paper work to make this a not-for-profit company.
"My goal is to empower everyone around me to ensure their legacy is left behind, because you can only succeed by learning from what you have gone through – mistakes are just opportunities to grow," said George Casey, Business Administration student at Keiser University Fort Lauderdale. "I came to realize that sometimes overcoming what life throws your way might be daunting, it is possible if you are willing to put in the work."
A self-described "serial entrepreneur", Casey has always known he wanted to start his own businesses, which is demonstrated by the "idea book" he keeps with him at all times. He is the father of three boys, a doting husband, a full-time student and a budding entrepreneur with dreams of pursuing his MBA after completing his bachelor's degree. He chose to attend KU because of the structure of the program and the one-class-at-a-time format that works for an adult student, such as himself.
Casey has at least three ideas for future businesses he wants to start and has set goals to make all of it happen, thanks to what he learned at the University of Connecticut Entrepreneur Bootcamp for Veterans with Disabilities (EBV) Program. He was chosen for this honor, along with 22 other veterans and learned how to become a successful entrepreneur. The program has even asked him to come back to mentor future classes of veterans going through the program.
Keiser University recently announced its plans to open a new Center for Entrepreneurship and Innovation at their future residential campus in West Palm Beach. The Center is intended to prepare graduates, just like Casey, to start their own businesses and reach greater heights in their chosen professions.
About Keiser University:
Keiser University is a private, not-for-profit University serving nearly 20,000 students offering 100 degrees at the doctoral through associate level on 17 Florida campuses, online and internationally, employing 3,500 staff and faculty. Keiser University holds Level VI accreditation signifying recognition of its expanded doctoral degree offerings.
Sixty-two percent of KU students graduate in STEM (Science, Technology, Engineering and Math) and healthcare fields, providing the talented workforce necessary for Florida to compete globally. Statewide Keiser University campuses currently have 60 accredited programs, spanning 21 program offerings, from 18 accrediting agencies/regulatory agencies to ensure that the top industry standards are met in degrees such as nursing, occupational therapy assistant, radiologic technology, physical therapy assistant, physician's assistant, and many others.
Keiser University is accredited by the Southern Association of Colleges and Schools Commission on Colleges to award certificates and degrees at the associate, baccalaureate, masters, specialist, and doctoral levels. Contact the Commission on Colleges at 1866 Southern Lane, Decatur, Georgia 30033-4097 or call 404-679-4500 for questions about the accreditation of Keiser University.