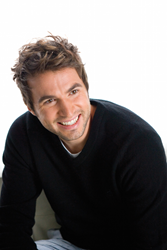 "It just happened to be the perfect day, so we dragged a piano on the beach, rounded up the team, and jammed out. 'Oceano' uses the ocean as a metaphor for the love and the dreams we experience in life." — Nathan Pacheco
MONARCH BEACH, CA (PRWEB) May 28, 2015
Acclaimed international vocalist Nathan Pacheco, whose performances in native languages have wowed audiences worldwide, has announced the video release of his newest single, "Oceano."
Pacheco, a classically trained tenor, made the announcement May 27th in conjunction with a worldwide video release of him performing "Oceano," which can be viewed on YouTube and Pacheco's home site. Oceano is available now on iTunes and other music retail channels. The video was produced and directed by multiple Emmy-award winner Alan Gibby.
"I loved shooting this in Laguna Beach (CA), right on the water," Pacheco said. "It just happened to be the perfect day, so we dragged a piano on the beach, rounded up the team, and jammed out to 'Oceano'.
"'Oceano' uses the ocean as a metaphor for the love and the dreams we experience in life," Pacheco continued. "Just as the ocean is deeper and stronger than we many times realize, sometimes we can feel like we're drowning as we go after our dreams. But as the song says, 'It's because of the love we feel … that allows us to overcome 1,000 storms.'"
Pacheco, 35, recorded "Oceano" with acclaimed producer Leo Z, the co-writer of the song, as well as cellist Tina Guo and Eric Rigler, who plays Uilleann Pipes and Penny Whistle, instruments popularized during the Renaissance. "I've worked with Leo Z for a few years now," Pacheco said. "He's a brilliant composer and producer responsible for this song. We've been performing it in live shows for the past three years, and it's gone over so well that we decided to record it for my new album."
The new album, Nathan Pacheco II, was released on Valentine's Day 2015 and continues to be available. It has been selling well. His debut album, "Nathan Pacheco" was released by Disney Pearl in 2012, after which he embarked on his first solo tour.
It figures that Pacheco employs unusual instrumentation at times, since he is quite eclectic himself. He is native of Northern Virginia with Brazilian heritage who can perform in multiple languages. He also did post-graduate studies in music in South America and Europe.
Pacheco's live pedigree is as impressive as his music. He has performed with Yanni, Puerto Rican singing sensation Olga Tanon, Katherine Jenkins and the (British) National Symphony Orchestra. On Yanni's most recent album, Inspirato, he sang with operatic greats Placido Domingo and mezzo-soprano Renee Fleming.
In 2008, Pacheco gained national attention as the featured performer in two PBS specials. In 2010-2011, he appeared on the Disney Parks Christmas Day Parade on ABC.
For more on Nathan Pacheco, please contact Zone57 Digital Media.
949-547-2488
zone57(at)mac(dot)com