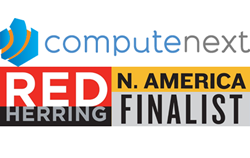 The list of finalists includes the best performing and prominent companies of that year.
Bellevue, WA (PRWEB) May 21, 2015
ComputeNext announced today it has been short-listed for Red Herring's Top 100 North America award, a prestigious list honoring the year's most promising private technology companies from the North American business region.
ComputeNext brings a unique cloud brokerage platform to the market. Its Global Cloud Marketplace is a platform which enables cloud service commerce, provisioning, and management from providers in over 40 locations worldwide. This platform is also available as a white-label solution which can be offered as a Marketplace-as-a-Service or a custom deployment for telecommunications companies, service providers, and large IT resellers/distributors. The platform can be rapidly deployed and customized for partners based on the cloud platforms, products, and services they wish to offer.
Red Herring has been selecting the most exciting and promising start-ups and "scale ups" since 1995. Finalists are still evaluated individually from a large pool of hundreds of candidates based across North America. Twenty major criteria underlie the scoring and process. They include, among others: the candidate company's addressable market size, its IP and patents, its financing, the proof of concept, trailing revenues and management's expertise. Each company goes through an individual interview after filling out a thorough submission, complemented by a due diligence process. The list of finalists often includes the best performing and prominent companies of that year.
This unique assessment of potential is supplemented by a review of the company's actual track record and standing, which allows Red Herring to see past the "buzz" and make the list a valuable instrument for discovering and advocating the greatest business opportunities in the industry. During the several months leading up to the announcement, hundreds of companies in the fields of security, cloud, software, hardware, big data, life sciences, mobile and others completed their submissions to qualify for the award.
"We're honored to be named a finalist for the Top 100 North America Awards," said ComputeNext CEO and founder, Sundar Kannan. "We are excited to further share our platform solution with the community and are glad to be recognized by Red Herring as a valuable innovator and disrupter to the cloud industry."
"The short-list confirms the excellent foresight and strong innovations created by entrepreneurs in North America. By all measures, the remarkable group of companies comprising the Top 100 Short-list underlines the region's constant drive to innovate," said Alex Vieux, publisher and CEO of Red Herring.
The short-listed companies qualify to present their winning technology at the Red Herring North America Forum being held June 1st through 3rd in San Diego, CA. The Top 100 winners will be announced during a special awards ceremony on the evening of June 3.