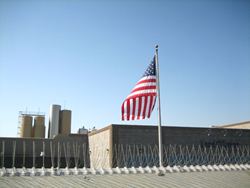 Stainless steel pigeon spikes are used on buildings and structures to keep pest birds from landing and roosting.
Irvine, CA (PRWEB) May 21, 2015
Bird B Gone, the leader in bird control products for commercial, industrial and residential applications recently added new sizes of the Bird Spike 2001 to its comprehensive lineup of bird control solutions. The affordable stainless steel bird spike is specifically designed to reduce building maintenance costs by preventing birds from landing or roosting on roof lines, parapet walls, I-beams, window ledges and more. It is now available online in 10, 24, 50 and 100 foot boxes, allowing customers to buy the right amount of spike to get the job done.
Every year, birds cause tens of millions of dollars of damage to buildings, machinery, roofs, ventilation systems and much more. The acidic nature of bird droppings can quickly eat into wood, metal, plastic, and even degrade stonework. Bird droppings can carry as many as 60 known diseases, entering buildings through vents and foot traffic to create health hazards. Nesting materials can clog vents and gutters, and some have even caused electrical fires.
Stainless Steel Bird Spikes address these problems—effectively, humanely and economically. They feature a no-gap design to block out pest birds and are available in 3", 5" and 8" widths to match the surface being treated. Constructed of 316 Stainless Steel, the spike is manufactured into a UV-protected polycarbonate base. The spike's patented design provides extra strength and stability, and unlike other spike products, it will not rust or deteriorate under extreme conditions.
The flexible base makes Stainless Steel Bird Spikes easy to install on curved surfaces, with no assembly needed. Once installed, the spiked strip is virtually invisible and carries an industry leading 10-year guarantee. Stainless Steel Bird Spikes offers the best option to deter large birds at the lowest price available. It won't cut or injure the installer, is safe for birds, and recommended by major animal rights groups.
Stainless Steel Bird Spikes are ideally suited in Light, Medium or Heavy Bird Pressure environments. (Heavy pressure—many birds nesting or roosting at the site; Medium pressure—provides birds a place to rest or a source of food; Light Pressure—only a few birds stopping during the day.) The new spikes are highly versatile and can be installed in many configurations, including:
Ledges. Stainless Steel Bird Spikes prevent pest birds from congregating and nesting on ledges, sills, roof tops, etc., where birds are prone to create unsightly messes and health problems.
Conduits. Stainless Steel Bird Spikes can easily be attached to wires, conduit, gutters, and pipes by using common hose clamps, Nylon ties or wire lashings.
Large Flat Surfaces. Stainless Steel Bird Spikes can be installed in multiple rows for a wide area of coverage.
Nesting Areas. Because pigeons and other birds often nest in a specific area for generations, installing Bird Spike 2001 using intertwining vertical and horizontal rows can prevent nesting or roosting.
Curved Surfaces. Stainless Steel Bird Spikes are so flexible that it can bend a full 360 degrees without breaking. This makes it ideal for curved surfaces, such as lampposts, signs, letters, etc., by using adhesive with nylon ties, hose clamps, etc.
For more information on Stainless Steel Bird Spikes and the complete line of products from Bird-B-Gone, call 1-800-392-6915; fax: 949-472-3116 or visit our website at http://www.birdbgone.com, e-mail: nobirds(at)birdbgone(dot)com.
Bird B Gone is the world's largest manufacturer and distributor of bird control products, providing effective and humane solutions to a bird-free environment. The company provides advice; training and installation services for those who need help with these and other bird control measures.