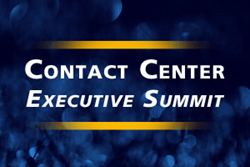 Bringing these cross-industry customer service champions together during this event provides a forum to connect, collaborate and contribute in conversations that spark innovation...
Fort Worth, Texas (PRWEB) May 20, 2015
By special invitation, senior level executives gather at the annual Contact Center Executive Summit event each fall to share perspectives, proven strategies and innovative best practices around customer service. This year's agenda will include speakers from both operations and industry; open discussion forums, facilitated small group discussions in addition to the social networking plans throughout the two day Summit.
Discussion leaders will share personal experiences and draw insight and perspectives from executive attendees. The event is two days of sharing with contact center executives and industry thought leaders tackling what has moved the needle for their organizations. Each day is packed with interactive sessions where participants review past initiatives and future plans, discuss insights and lessons learned, and offer benchmarks for comparison.
"The CCNG Executive Summit has been great as it affords the opportunity to connect with an exclusive group of thought leaders and senior level executives across various industries and disciplines. The success of conferences for me is determined by the innovative thought that is generated through collaborative conversations among attendees. After the event last year, I was able to immediately iterate on ideas that I shared and implement new processes that have worked for others." Eric Newton, Director of Customer Support, CareerBuilder.com
Each day delivers cross-industry collaboration and dynamic problem solving with top professionals and industry thought leaders. The agenda features:

Peer best practice presentations
Town Hall / Open Discussion Forums
Small Group / Peer Discussions
Critical networking time throughout the event
Hosted receptions
A private interactive tour of the exhibit hosted at the Fort Worth Museum of Science & History!
This year senior level management from six CCNG partner companies will be participating along with clients from the sponsor companies including Five9, Intradiem, inContact, Aspect Software and OpenSpan.
"C-level executives continue to rank customer experience as a critical differentiator as their organizations strive to grow, acquire and retain their customer footprint," commented Anna Convery, chief marketing officer and EVP of Strategy for OpenSpan. "The CCNG Executive Summit serves to assemble leaders from best-in-class organizations who are committed to transformation initiatives within their enterprises that derive world-class customer experience. Bringing these cross-industry customer service champions together during this event provides a forum to connect, collaborate and contribute in conversations that spark innovation, thought leadership and next-generation strategies that will benefit their respective organizations, as well as the ecosystem of customer experience professionals that strive to evolve their organizations into more customer-centric enterprises." Anna Convery, Chief Marketing Officer and EVP of Strategy, OpenSpan
Topics planned for discussion include:

Innovative Performance Management Programs
Leadership and Development Approaches
Cross-Channel Service Continuity
Self-Service in an Omni-Channel World
The Right Way To Right-Channel
Evolving Analytics: Speech, Text, Data, Desktop, and More
Next Up! Knowledge Management
And much more ...
For details on how to attend or present in future CCNG executive or mid-level management events, contact Michelle Porterfield, mporterfield(at)CCNG(dot)com. View program details for all CCNG events on the CCNG web site, Events tab.
CCNG International Inc.
Founded in 1992, CCNG International Inc., CCNG is a member Professional Peer Network (PPN) for Contact Center, Customer Experience and Customer Service Executives, Managers, and Leaders.
By joining the CCNG Member Network, experienced industry professionals:
Connect – interact and engage with your peers,
Collaborate – discuss best practices and problem solve,
Contribute – share your own experiences and expertise.
All Call Center, Contact Center, Customer Care, Customer Service, and Customer Experience Professionals are invited to participate in the CCNG Member Network. For more information about the CCNG Member Network, please visit CCNG.com, "Like" us on Facebook, and follow us on Twitter - @CCNGNetwork.
# # #