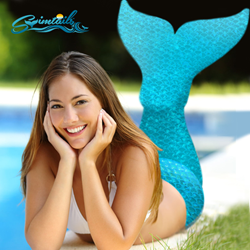 Experience the freedom of swimming like a mermaid.
Denver, CO (PRWEB) May 25, 2015
Mermaids have captured the imagination of young and old for thousands of years. For the first time ever, swimmers can experience what it's like to swim with a tail. The maker of these swimmable mermaid tails is a company called Swimtails. Kristie Foster, owner and founder of Swimtails, said of her inspiration for creating these one of a kind mermaid tails, "I wanted to give our customers a total mermaid experience. Our tails are like a second skin. It's amazing how natural it feels."
The activity known as "mermaiding," swimming through the water while wearing a mermaid tail, has gained popularity during the last few years. "The great thing about this activity is that it gets kids and adults moving. It doesn't feel like exercise, but it's a vigorous workout," explains Kristie.
The most common reaction to mermaid tails from Swimtails is usually one of surprise. Most people naturally have lots of questions:
What is a Swimmable Mermaid Tail?
Mermaid tails are made from swimsuit material, printed with custom designs and a single flipper, know as a monofin. They are used by kids, teens and adults.
1) A monofin is a single plastic and/or rubber flipper that fits both feet and helps propel swimmers through the water.
2) A mermaid tail skin is the swimsuit material that covers the legs and wraps over the monofin to create an authentic look.
How does it work?
Putting on a mermaid tail is fairly simple. The swimmer just sits and places their feet inside the monofin (which rests inside the mermaid tail skin). After securing the strap on the back of the monofin, the swimmer then stands up and simply rolls the swimsuit fabric up to their waist.
Swimming while wearing a mermaid tail takes a little getting used to and should be done by experienced swimmers. To learn more about how to swim like a mermaid, download the free guide.
Is it safe?
While all water activities carry some risk, mermaiding is a perfectly safe and healthy way for kids and adults to exercise and have fun. Children 4 years of age and younger are generally too young to wear a mermaid tail while swimming. However, many have fun outside of the water with their tails. Children should already know how to swim well before swimming with a tail. Adults should always supervise their kids while they are mermaiding.
Who is Swimtails?
Swimtails manufactures mermaid tails right here in the USA. The material used is a special polyester or nylon - spandex blend that provides a comfortable 4-way stretch. The custom prints are chlorine, ocean and lake safe. Swimtails only uses FINIS brand monofins in its tails. FINIS is the original maker of the mermaid monofin and is renown for their quality and safety.
For more information about swimmable mermaid tails, visit Swimtails.com.