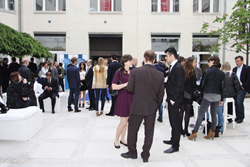 the inaugural edition of the European Games serves as a tool to strengthen ties between Azerbaijan and the remainder of Europe.
Berlin, Germany (PRWEB UK) 21 May 2015
On 20 May, the historic Kunztschule Gallery in Berlin hosted the opening of the 'Azerbaijan – Sport in Focus' exhibition dedicated to the fellowship of sport and the inaugural edition of the European Games that will take place in Baku from 12–28 June 2015. Previously exhibited in London, Nice and Maastricht, the exhibition has now come to Berlin. More than 250 high-profile guests attended the opening.
Shahin Namati, Director, TEAS Germany described the event as "providing the opportunity for young, international photographers to present themselves and Azerbaijani sport in an international environment." He emphasised that "the inaugural edition of the European Games serves as a tool to strengthen ties between Azerbaijan and the remainder of Europe."
Located in the South Caucasus, Azerbaijan is becoming increasing Eurocentric. Sandwiched between hosting the Eurovision Song Contest in 2012 and the Baku European Grand Prix in 2016, the Baku2015 European Games is a major event for Azerbaijan.
A land of plentiful natural resources, centuries-old culture and inherent hospitality, Azerbaijan has always played an integral role in the Caspian and Caucasus regions. The country unites Eastern Europe and Western Asia, and serves as a bridge between East and West. Overlooking the Caspian Sea, Baku is located on the eastern edge of Azerbaijan. Since the country gained independence from the Soviet Union in 1991, the cityscape of Baku has changed significantly, as office towers, ultra-modern apartment blocks, hotels and banks have emerged to meet the demands of the capital's growing and well-educated population.
Years after their initial proposal, the European Games were launched at the General Assembly of the European Olympic Committees on 9 December 2012 in Rome, when 84 per cent of the National Olympic Committees of Europe voted in favour of their creation. The European Games are a multi-sport event for athletes from all over Europe that will be held every four years. The Games are owned, organised and regulated by the European Olympic Committee.
Baku is honoured to host the inaugural edition of the European Games, where over 6000 athletes representing 50 European Olympic Committees are bidding to win the 253 gold medals on offer, together with the title of the first-ever European Champion. Over 16 days, the competitions across 20 disciplines, comprising 16 Olympic and four non-Olympic sports, will take place in 12 different venues. Baku2015 will offer a huge range of sports, including athletics, boxing and gymnastics, karate, beach soccer and 3v3 basketball. There will be added significance for 12 disciplines, as they will contribute towards qualification for the Rio2016 Olympic Games.