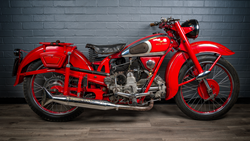 Can a pretty Italian motorbike be allowed into the house under the banner of art? "Yes" says Shepherd, "it should be encouraged!"
(PRWEB UK) 22 May 2015
Owner Robin Shepherd says: "We are the only gallery in the world offering stylish, sexy and colourful classic Italian motorbikes specifically as decorative art - aimed at the interior designer, window dresser and stylist, offering a new and exciting range of ideas to help set them apart.
No person of refined taste would want a motorbike parked in their living room. Right? Wrong! "Push the boundaries! Break all the rules!" says Shepherd. "Look at the photos http://www.motogalleria.com/shop/ and tell me that's not art."
MotoGalleria's stunning bikes capture the `art in engineering` of a golden era when motorcycles were chic, fashionable and elegant, built with a passion for the aesthetic and a flair for functional art. Handcrafted, these beautiful forms now more than ever can excite and engage, evoke emotion and fire the imagination............... and they`re a clever investment too.
The gallery dares its customers to be different and look beyond the norm by bringing a piece of `living sculpture` into their home, office, foyer, man cave - anywhere it can be displayed, appreciated and adored.
MotoGalleria is, coincidentally, spliced onto the side of BBC`s Top Gear studio and just 35 miles south of London on a Second World War airfield.