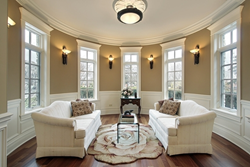 Rather than matching all pieces with the same color scheme, mix furniture patterns and colors to add visual interest
Chicago, IL (PRWEB) May 21, 2015
When putting their home for sale, sellers try to convey that the living room has plenty of open space for occupants to spread out and relax. However, The Federal Savings Bank knows that if there is clutter on coffee tables and the carpet is stained, potential home buyers can be turned off.
Rather than leaving this area like it is every day, current homeowners should not only tidy up the living room but also stage it so it is ready for house hunters.
The following are three tips The Federal Savings Bank compiled for proper room showings:
1. Remove stains in carpet and declutter the room
First-time home buyers and other people looking for their next new abode will want a property that is move-in ready. That may mean a living room carpet that is free of stains or marks. Home sellers should consider removing the stains professionally or replacing the carpet altogether. Additionally, take out any decorations or items that may be taking up too much space to leave a blank canvas for home buyers to imagine themselves in.
2. Let in light
The right amount of light can show off all the best features of a living room. Sellers should let light in by opening the blinds. It also helps buyers see what kind of view they would get from their property.
3. Mix together patterns
Buyers often like to see homes with some style. Home sellers' furniture and decor are integral to catching first-time home buyers' eyes. Rather than matching all pieces with the same color scheme, mix furniture patterns and colors to add visual interest, Southern Living recommended. Determine whether to choose different colored tables of varying heights. Sellers can also mix together sofas and tables that have distinguished patterns.
For more information on applying for a low rate mortgage for a new home, contact The Federal Savings Bank, a veteran owned bank, to learn more about loan options.