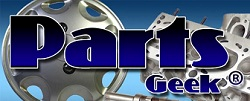 (PRWEB) May 22, 2015
In an article that was released on May 11th, 2015 on CNBC.com, it was reported that Toyota must recall over 110,000 vehicles. Amongst all of the vehicles that were recalled, 2,500 of them include the 2012-2014 RAV4 EV models. The recall centers around an issue with their Electric Vehicle Traction Motor Assembly, a software issue which could cause the vehicle to shift into neutral. When a driver takes his or her RAV4 EV to the dealership to have the recall issue corrected, the mechanic may find other auto parts that may be on the verge of malfunctioning or need to be replaced. Instead of allowing the mechanic to replace the parts, RAV4 EV owners can turn to Parts Geek for affordable replacements. In fact, to help RAV4 EV owners get what they need, Parts Geek is pleased to announce that they have expanded their inventory to feature over 5,700 auto parts and accessories.
Parts Geek offers auto parts and accessories for Toyota RAV4 models that were manufactured as recently as 2015 and as far back as 1996. Some of their top-selling parts include but are not limited to: AC compressors, brake pads, cabin filters, mirrors, window regulators, tail lights, and headlights. Last but not least, the company also offers many of their auto parts from leading brands such as Anco, Weathertech, TYC, NPN, Monroe, and Dorman.
Aside from boasting an updated inventory, Parts Geek has also acquired over 300 reviews for their Toyota RAV4 parts. A recent reviewer, who ordered a NPN air filter, had this to say about his purchase: "The cost of this filter in local stores was outrageous if they even carried it. Forget about the dealer. I know they have bills to pay and employees to keep on the payroll but not out of my wallet. I went to Parts Geek and save a ton of cash. I mean a ton! The dealer price was 43% higher than Parts Geek!"
To see Parts Geek's updated inventory of Toyota RAV4 parts and to read more reviews, please visit their website today.
About Parts Geek:
Parts Geek offers an extensive line of auto parts, performance accessories, and part applications. While focusing on providing the largest supply of replacement parts, Parts Geek also provides the lowest prices on all new, OEM aftermarket and performance parts and accessories. Online, visitors will find an extensive catalogue of new and used parts for all domestic and imported cars and trucks. Since 1996, Parts Geek has been offering customers complete satisfaction with their high quality service. The company's main office is located in Marlton, New Jersey. The main office is open Monday through Friday, from 9 am to 6 pm, and Saturday from 9 am to 3 pm.
To hear more about the company, please visit http://www.partsgeek.com.