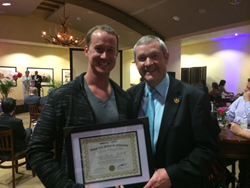 Washington, DC (PRWEB) June 03, 2015
Foot and Ankle Specialists of the Mid-Atlantic, LLC podiatrist Dr. Casey Friske (Clarksville Division) was recently presented with the Wound Care Podiatrist Scholarship from the Symposium of Advanced Wound Care (SAWC) and the American Podiatric Medical Association (APMA), presented by APMA President-Elect Dr. Dan Davis. The Conference was held on April 29-May 3, 2015, at the Henry B. Gonzalez Convention Center in San Antonio, TX.
Dr. Casey Friske graduated from Indiana University in 2004 with a double major in Biology and Criminal Justice. While at Indiana, Dr. Friske was a four-year varsity track and field athlete, competing in the pole vault. He then attended the Ohio College of Podiatric Medicine, where he graduated in 2010 with Pi Delta National Honor Society membership.
Dr. Friske then finished his three-year surgical training at University Hospitals in Cleveland, Ohio, in 2013.
His interests include foot and ankle trauma / reconstruction, sports medicine, and limb salvage. With Dr. Friske's comprehensive and thorough training, he is able to treat foot and ankle problems in patients of all ages.
Apart from podiatry, Dr. Friske has a vested interest in running. He has completed numerous marathons and triathlons.
For more information on Dr. Friske and Foot and Ankle Specialists of the Mid-Atlantic, visit our website: http://www.footandankle-usa.com.