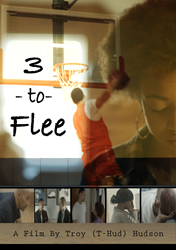 Minnesota, MN (PRWEB) May 28, 2015
Michael Johnson III, the number one ranked high school basketball player in the nation, has a choice to make. The NBA's "one-and-done" rule stipulates that he must attend at least one year of university prior to entering the league. This particular young man's story of struggle to provide for his family may be fiction, but it is mirrored in the lives of the countless freshmen declared for next month's NBA draft.
Undrafted Pros Production released 3 To Flee online earlier this month. Troy (T-HUD) Hudson served as the film's writer, editor, producer and executive producer.
Hudson was an undrafted player who went on to play 11 years in the NBA; the majority of that time being spent with the Minnesota Timberwolves. After the 2003 playoff series against the Lakers in which he scored 23.5 points per game, he became known as the "Laker Killer."
"I was inspired to write and produce this film after hearing countless debates in the media on rather an athlete should or should not be allowed to enter the pros at a certain age," Hudson said. "Instead of voicing my opinion I wanted to illuminate the cause and effects of either decision through a film enactment."
Undrafted Pros Production hopes to releases several sports films, including documentaries and fictional accounts, this year.
About Undrafted Pros LLC
Founded in 2006, Undrafted Pros LLC is based out of the Twin Cities of Minnesota. The company offers training, workout videos, apparel and now films. Undrafted Pros Curriculum focuses heavily on conditioning the mind before the body in order to create the complete athlete. The company is focused on educating and training athletes about the game of basketball in its entirety. The newly launched Undrafted Pros Production plans to release several sports based films and documentaries in 2015. For more information visit http://www.undraftedpros.com.
Media Contact
Troy Hudson
(612) 730-1807
undraftedpros16(at)gmail(dot)com