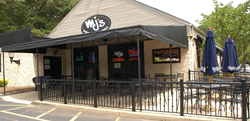 Neptune Township, New Jersey (PRWEB) May 21, 2015
Owning a restaurant was always the dream for two lifelong friends who became the masterminds behind the popular eatery, MJ's Pizza Bar & Grill. Within five years, Rob Webster and Angelo DiCapua turned their dream into reality quickly opening locations in Tinton Falls, Middletown, Neptune, and Matawan, New Jersey. The duo is excited to announce their newest venue, formerly known as the Cambridge Inn in Spotswood, New Jersey scheduled to open this May.
Ever since their friendship began in 1997, Webster, a former FBI agent and caterer at The Channel Club Marina in Monmouth Beach, New Jersey, and DiCapua, owner of Michael Angelo's pizzeria in Monmouth Beach, New Jersey, talked about opening a restaurant one day. In June 2010 they welcomed the first of a successful series of restaurants, MJ's Pizza Bar & Grill in Tinton Falls, New Jersey. "Every few years Rob would come to me saying he wanted to open a restaurant and one day we looked at a place and closed the deal in three weeks," said DiCapua.
Their restaurant fever soon took off, revealing three more New Jersey locations: Middletown in February 2011; Neptune in December 2011; and Matawan in July 2013. "It's something we always talked about that's different than a pizzeria," said DiCapua who at one time owned three Michael Angelo's pizzerias in Long Branch, Sea Girt, and Monmouth Beach, New Jersey. "It just felt more glamorous with a liquor license." At the Matawan location DiCapua and Webster also opened a banquet hall available for weddings and private affairs.
The business's success has not gone unnoticed, as they were voted one of the best sports bars in central New Jersey by the Asbury Park Press in 2012 and Best of Monmouth by Monmouth Health and Life Magazine in 2014. "It's a homey place," said DiCapua. "The bartenders and staff get to know everyone. We really excel with our food; our wings are some of the best around." Along with daily specials, guests can also enjoy live entertainment and game nights. "We started off every night with entertainment but now we've narrowed it down to five nights a week with a band or a deejay," said DiCapua. "Trivia nights are fun, but for some reason karaoke doesn't work as well in Neptune as it does in our other locations," added Webster. "We keep testing it and seeing what the customers want."
With what seems like always a new establishment in the works, the eatery has many loyal customers that have supported the business. "I think we give a lot for the money," said DiCapua. "Maybe we won't make as much, but we have a lot of repeat customers. Now with number five opening, people know the name." Their newest location will also have a private room for catering.
The owners look forward to upcoming events including the Long Branch Harley Davidson Bike Night held the third Tuesday of every month in the parking lot of their Neptune, New Jersey location. Also the 5th Annual MJ's Golf Outing takes place Monday, June 1, 2015 at the Jumping Brook Country Club in Neptune, New Jersey. All proceeds benefit Jared Gaedt and the Rainbow Foundation. "We are very big on donating and helping out," said DiCapua. "You get to a point when you're successful and giving back is just as important." They also sponsor local softball and baseball teams.
With five restaurants under their belt, it doesn't seem like the two are stopping just yet. "We've looked at hundreds of places but nothing is at the right price," said Webster. "Our next move should be Southern or Western New Jersey." "I think between us our goal is ten restaurants if we had to throw a number out," said DiCapua. "We're really excited for what's to come."
MJ's Pizza Bar & Grill opens at 11:00 am seven days a week for lunch and dinner. Exclusively at MJ's Buttonwood Manor is a brunch buffet every Sunday from 11:00 am to 2:00 pm including a prix-fixed menu. Catering, take-out, and outdoor seating is available. For upcoming events or to make a reservation, visit their website, http://mjsrestaurant.com/ or call 732.918.9700.
About Bielat Santore & Company Bielat Santore & Company is an established commercial real estate firm. The company's expertise lies chiefly within the restaurant and hospitality industry, specializing in the sale of restaurants and other food and beverage real estate businesses. Since 1978, the principals of Bielat Santore & Company, Barry Bielat and Richard Santore, have sold more restaurants and similar type properties in New Jersey than any other real estate company. Furthermore, the firm has secured in excess of $500,000,000 in financing to facilitate these transactions. Visit the company's website, http://www.123bsc.com for the latest in new listings, property searches, available land, market data, financing trends, RSS feeds, press releases and more.