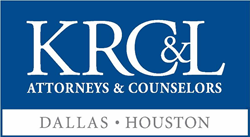 Dallas, Texas (PRWEB) May 22, 2015
Kane Russell Coleman & Logan PC (KRCL) is proud to announce that, for the seventh consecutive year, Chambers has selected the firm for recognition in America's Leading Lawyers for Business Guide. Chambers recognized KRCL's Bankruptcy and Restructuring Practice Group as well as five KRCL attorneys for individual acknowledgment.
Chambers selected George Barber, Joseph Coleman, and Joseph Friedman from the Firm's Bankruptcy and Restructuring section for recognition.
Joseph Coleman, one of KRCL's founders and the Chair of the Bankruptcy and Creditors' Rights group, received high praise from Chambers for his work representing creditors in corporate and debt restructurings. One client contacted by Chambers extolled his "business acumen and knowledge of the law."
Joseph Friedman earned positive reviews from the clients as well, who praised him for his skill and ability in the courtroom.
George Barber was praised by Chambers for "his technical knowledge, as well as for his experience working in the financial services industry."
In addition to the Bankruptcy Group, Chambers also ranked Kenneth Johnston, a Director in the Firm's Litigation Group and who heads the Financial Services Group. Kenneth frequently represents financial institutions in general bank operations, material defensive litigation and credit risk management. One client interviewed by Chambers noted that Kenneth has " a really good style, he gets to the point of things and has a good business head too."
Chambers also recognized Raymond Kane, a founding director of KRCL, for his expertise in Real Estate Law, noting that he is "noted for his excellence in negotiation and structuring of real estate transactions."
For the last twenty years, Chambers has published leading directories of the legal profession. Chambers' reputation is based on the independence and objectivity of its research. Chambers has 100 full-time researchers who interview thousands of lawyers and their clients around the world. This intensive, continuous research identifies the world's leading lawyers and law firms—those who perform best according to the criteria most valued by clients.
Kane Russell Coleman & Logan PC is a full service law firm with offices in Dallas and Houston. Formed in 1992 with five lawyers, today KRCL has more than 85 attorneys. The Firm provides professional services for clients ranging from Fortune 500 companies to medium-sized public and private companies to entrepreneurs. KRCL handles transactional, litigation and bankruptcy matters in Texas and throughout the country.
SOURCE: Kane Russell Coleman & Logan PC