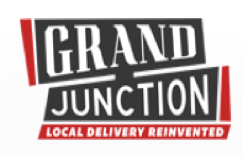 SAN FRANCISCO, CA (PRWEB) June 03, 2015
Grand Junction, Inc., the only comprehensive provider of national, same-day and scheduled delivery, today announced benchmark metrics to support its rapid growth. The Company out-delivers its top competitors in the market, including Deliv, Postmates, and Google Express combined, managing an average of 90,000 local deliveries a day.
Since its founding in 2013, Grand Junction's technology platform has rapidly grown to handle a delivery every second for customers ranging from small retailers to Fortune 500 enterprises. The Company, which allows businesses of all sizes to offer delivery through a comprehensive technology platform and coast-to-coast network of 700 local delivery companies and couriers, provides customers a choice of customizing their own service, or choosing from on-demand, same-day AM/PM, scheduled and two-person delivery.
"Consumers' expectations are constantly evolving, and it is only a matter of time before they will expect to choose from a range of same-day service levels at an affordable price," said Rob Howard, Chief Executive Officer, Grand Junction. "With our integrated network of experienced local carriers that service every market in the US and Canada, we've been able to do what our competitors cannot – offer the ability for retailers, 3PLs, distributors and consumer-focused startups to quickly roll out local delivery service on a national basis without compromising their customer experience."
While Grand Junction is integrated with independent contract drivers, it works primarily with local carriers (couriers), a 150-year-old, $40 billion industry that companies such as Amazon have long trusted for their customer delivery and "last mile" logistics. Working with local carriers, as opposed to exclusively with independent contract drivers, provides its customers with higher quality, lower total cost, and the abilities to both rapidly scale and customize service levels to their business needs.
"Looking ahead, our goal is to engage with startups and 'app' providers that are new to same-day delivery," continued Howard. "Local delivery can be over-complicated and confusing, but our platform provides companies with a professional, configurable service offering that will delight their customers' and give them a competitive edge."
For more information about Grand Junction, please visit http://www.grandjunctioninc.com.
To learn more about same-day and local delivery, please read http://www.grandjunctioninc.com/blog/.
Follow us on LinkedIn at http://www.linkedin.com/company/grandjunctiontech.
About Grand Junction, Inc.
Rapidly approaching 100 million deliveries managed to date, Grand Junction is the only provider of same-day delivery in every market in the US and Canada. Grand Junction allows leading retailers, 3PLs, distributors, and start-ups to offer local delivery through its comprehensive technology platform and network of 700 local carriers. With Grand Junction, shippers have real-time visibility and control over their spend and customer experience, and can customize the services they offer, choosing from on-demand, same-day AM/PM, scheduled, and two-person delivery.
Media Contact
Colleen Martin
Zer0 to 5ive on behalf of Grand Junction, Inc.
570.259.0915
colleen(at)0to5(dot)com